"It is wrong to give a regulatory body, revenue targets"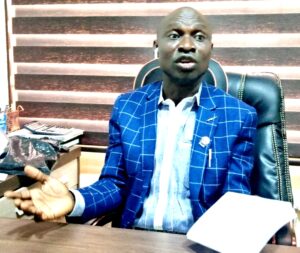 Mr Ojo Peter Akintoye is a factional Chairman of Association of Nigeria License Customs Agents (ANLCA) Tincan Chapter. In this interview with Oluyinka Onigbinde he speaks on sundry maritime issues.
Why do you think there still exist multiplicity of government agencies at the port?
We once had a minister of finance who tried to sanitize the port operations. Experts have repeatedly said cargo clearance in Nigeria is the most expensive in Africa.She organised a lot of retreats to know what agencies are supposed to be in the port. But her efforts were frustrated. Today, every agency is inside the port to collect money. Why must NAFDAC wait till they import fake drugs into the country before they say they want to arrest? Why's SON waiting till they turn Nigeria to a dumping ground for fake items? These things don't happen in the developed world.
The same countries that we say are producing fake products, are the same producing for developed countries; but they dare not produce such for those countries.
But why is ours different?
I think it's the government that is encouraging corruption. Poverty has turned Nigerians to corrupt people. A large percentage of Nigerians have corruption flowing in their vein. We are saying that we want to discourage importation, yet we make it a source of living. When you import an item into the country, NDLEA, NAFDAC, SON, NPA, Nigeria Customs, NIMASA will collect money. What's the need for another policy when the one we have is more expensive? Will corruption allow the system work?
What's your take regarding the introduction of International Cargo Tracking Note?
There is no system you want to put in place that some people don't know how to manipulate it. Nigerians know how to manipulate things because corruption runs in our blood.
How true is it that freight charges have increased on imports from China and what will be the impact?
The freight cost is not peculiar to Nigeria. No matter what you are carrying, you won't pay less than N3Million duty on a 40ft container. We were in Abuja few weeks ago at a meeting with the Nigeria Customs Service and the National Assembly and we asked why duty needs to be increased at this time despite the tough economic climate. If they say they are using it to generate revenue for the federal government, it's ok. The impact is coming on the end users.
The whole world is looking for ways to make life better for their citizens, but ours is adding to our burdens in the name of revenue generation. Look at the road they have been constructing for the past 8 years. How many kilometres is Apapa to Oshodi? So what I am saying is that it is the final consumer that pays for the increase.
Why do you think the Tincan road has remained as it is over the years?
The reason still boils down to corruption along that corridor. I was in Dubai in 2018. And due to the fact that it was preparing for a global sport tournament, it had to construct some roads. My experience is that the contractors worked round the clock for a road that leads to a stadium. Yet Nigeria can't complete the road that feeds its economy. The painful part is the loss of lives on that road. Ironically, most of the victims have their cars, but because of the state of the road, they board Okada and have lost their lives.
Ease of Doing Business in the maritime industry seems difficult, why do you think so?
It is a Nigerian factor. Nigeria wants SON, Customs to regulate the products coming into the country and the same government placed a revenue target on them. If I'm made the head of one of the parastatals and given revenue target, what do you think I will do? I know that if I don't meet my target, you will change me. But I don't want to lose my job. You can't eat your cake and have it. It's wrong to give a regulatory body, revenue targets.
Can we attribute the revenue generation on the part of Customs to why we have influx of hard drugs in the country?
Definitely. You beat a child and you are saying that the child should not cry. It's not possible. It's either you leave that child and enjoy peace or endure his cry when you beat him. So you can't expect them to facilitate trade and at the same time ask them to generate revenue.
The recent relationship between ANLCA and NAGAFF has been tagged a marriage of convenience. What's your take on this?
For over 20 years, we have been coming together on different platforms and throughout the period, we found it difficult to achieve a purpose because government agencies capitalised on our differences. This is because they can run to ANLCA when they want to do something bad and they will do it, which they know the other party will raise an eyebrow. They will tell ANLCA that anytime that group says anything against it, just counter them. There is an adage that says where two elephants fight, it is the grass that suffers. The situation was better before now because the associations spoke with one voice. I was in the industry before the creation of NAGAFF. When the union speaks, everyone listens but that is not the case today. Some years ago, I was with a senior officer of the Nigeria Customs Service and he confessed to us that they are the ones that divided the union by sponsoring someone to establish NAGAFF, because they found out that our powers were too much. So, it was a divide and rule strategy. They thought they're doing us evil not realizing that whatever happens in the maritime sector affects the nation. This is because the products that come into the port is not limited to only within the port.
So, those who are against our coming together are doing so because of their selfish interests. There is power in unity. So, if we can come together to address the challenges, how's that a problem? In the past, when we collect a Bill of Lading, half of our personal problems is solved. Nowadays, our problems have doubled. When you clear from the port, the same people who say they're regulating inside the port also have their own task force outside. We have more than three units of the Nigeria Customs Service on the road.
Is ANLCA willing to join NAGAFF on the proposed strike against shipping companies?
We are ready to join them. Withdrawing our service is the first step and if they continue, we have a Plan B. We are ready to join NAGAFF to sanitize the Nigerian Shipping companies.
Kindly like us on Facebook