The Federal Government says it's set to partner with the Republic of Greece on the training of Nigerian youths on ship building and deep blue sea among others.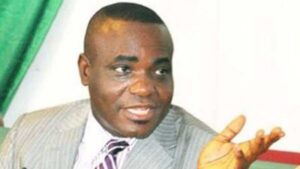 Sen. Ita Enang, Senior Special Assistant to the President on Niger Delta, disclosed this when he paid a courtesy visit to the Greece Ambassador to Nigeria Ioannis Plotas in Abuja.
Enang said that partnering with the Republic of Greece on sea economy and other agricultural value chain would promote mutual benefits for both countries.
According to him, the aim of the programme is to ensure that the citizens of Niger Delta are trained in high seas fishing and potential ship building.
"We want to ensure that we harvest the fish in the deep ocean, high seas and the streams.
"Part of my mandates is to work on economic diversification especially as it affects the Niger Delta and to reverse the situation in which we depend on foreign imported goods.
"And the partnership on the agricultural value chain is expected to explore the opportunity of the ocean deep blue sea economy,'' Enang said.
He said that the programme would also provide the platform to process them within Nigeria, send some for export and consume some in Nigeria.
"This will prevent the use of foreign exchange in food importation,'' he added.
Enang further commended the Officers of University of Patras in Greece and the consortium of Greece companies who are working on the project.
He, however, requested that Nigeria should be linked to other institutions in Greece particularly on the fish and agricultural value chain.
"We want to have a discussion with them on how they can be of assistance to us, not in terms of giving us aides, we are going to do business and into transfer of technology.
"We want them to show us one of the few things they would do, invest in Nigeria, teach people about it and also learn from us,'' he added.
The Presidential aide noted that the Greece Institutions would also learn from the country considering the domestic nature of the land, culture, fishes among others.
Responding, Plotas commended Enang for being in the forefront to strengthen the relationship between Nigeria and Greece while expressing satisfaction on Nigeria's diversification of economy programmes.
He noted that other companies in northern Greece would be ready to take advantage of the programme, saying that Greece Companies own about 80 per cent of the commercial shipping fleet in Europe and about 25 per cent in the whole world.
Kindly like us on Facebook