The world's first hydrogen-electric, emission-free push boat ELEKTRA has been christened in Germany. The vessel was built over 2.5 years and will undergo lengthy testing before it sees operation between Berlin and Hamburg.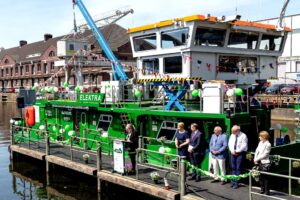 ELEKTRA uses 750 kg of high-pressure stored hydrogen and batteries with a capacity of 2,500 kWh. The ship can go about 205 nautical miles without refueling and recharging. The hydrogen can be loaded onto the ship with the built-in cranes, and the batteries recharge with cables that connect to charging points on the ports mechanically to perform seamlessly and take less time. The vessel is made to conserve energy in mind, the hydrogen powers the main propulsion and is also used to heat the rooms, for the amenities of the crew who live onboard, and even to maintain the battery, which must be kept at a particular temperature for optimum performance. Stations for refueling and recharge are to be built in Berlin's port of Westhafen and the port of Lüneburg in 2023.
The ship was built by a partnership between 8 firms, including the shipyard Hermann Barthel, EST-Floattech, HGK shipping, and others, under the project management of Dept. Of Maritime Systems and Design and Operations at the Technical University of Berlin. The project cost around 14.6 million Euros and was backed by the Federal Ministry for Digital and Transport, which provided approximately 9.1 million Euros. The project has also received support from the National Organization for Hydrogen and Fuel cell technology.
Kindly like us on Facebook