President of Maritime Security Providers Association of Nigeria (MASPAN), Mr Emmanuel Maiguwa has raised a voice in defence of the embattled crew on board the crew oil tanker; MT Heroic Idun.
Maiguwa said in one of his social media handles recently, that the crew should not be held accountable for instructions that were passed on to them from ashore by their employers. He called for the immediate release of the crew.
Shipping Position Daily recalls that, the rogue vessel; MT Heroic Idun was arrested on August 12, 2022 in Equatorial Guinea waters, after evading arrests and sailing from Nigeria on the fake alarm that it was being pursued by sea pirates,
After a few months, the ill-fated ship has been handed over to the Nigerian Navy in November and moored at the Bonny Offshore Terminal with her 26 crew.
The crew are currently facing trial in a Port Harcourt High Court on five charges.
But, speaking on the development, the MASPAN President explained that it is sad to always see crew at the receiving end of instructions and orders made from ashore.
According to him, "it is sad to always see crew at the receiving side of instructions and orders made from ashore".
"We must remember that the charges have nothing to do with the crew's discharge of their statutory duties and responsibilities onboard, either under the Flag or Port State responsibilities.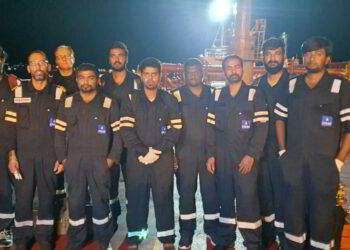 "Voyage fixtures are beyond the responsibility of the crew, except for element of Safety of Life At Sea (SOLAS).
"Regardless of what the court will pronounce at the end of this trial, these crew are victims of poor system and structures", he argued.
"The least we can do for them now is to ensure they all spend this Christmas with their families. If I can do anything at all, I won't spare a moment to ensure that happens", he concluded.
Meanwhile, the International Transport Workers' Federation (ITF) has said that the 26 seafarers who are held in Nigeria on charges of oil theft should be freed now, following confirmation from BP that their ship's load was authorized.
ITF's Fair Practices Committee Steering Group (FPCSG) issued a statement demanding that Nigeria immediately releases and repatriates the seafarers. The FPCSG governs ITF's Flags of Convenience campaign and takes a special interest where seafarers are unfairly and unreasonably criminalized — as in this case.
According to the ITF, "the very large crude carrier (VLCC) tanker Heroic Idun (IMO: 9858058) was authorised to load at Akpo oil field in the Niger Delta in late July, BP has said. The British oil giant was subcontracting the ship to take the load and has expressed its support for the crew.
"These seafarers have been subjected to lengthy detentions and unfair legal action apparently because of a mix-up," said Dave Heindel, ITF Seafarers' Section Chair and Co-Chair of the FPCSG. "Some have been held in appalling conditions and interrogated without charge. They have been denied legal help. Their basic human rights have been infringed and that's something the ITF will not stand for."
The global body argued further that: "The way these seafarers have been treated is outrageous. "There are rules under international law for dealing with crimes at sea, that both Nigeria and Equatorial Guinea appear to have completely ignored."
"Nigeria must recognize the complete lack of evidence in this case and free the crew immediately. Their arrest, continued detention and possible lengthy legal battle is a complete miscarriage of justice."
The ITF Fair Practices Committee Steering Group strongly condemned the criminalization and unfair treatment of the seafarers, reminding states of their legal obligations under the International Labor Organization's (ILO) Maritime Labor Convention 2006 (MLC). Regardless of charge, seafarers who are detained in a foreign port should be dealt with promptly, given due process of law and with appropriate consular protection.
Kindly like us on Facebook/twitter