The Association of Nigeria Licensed Customs Agents (ANLCA) has alleged that the immediate past President of the National Association of Government Approved Freight Forwarders (NAGAFF); Mr. Increase Uche, betrayed freight forwarding practitioners before the National Assembly, when he decided to take side with the Nigeria Customs Service (NCS) by stating that freight forwarders are known for falsifying documents.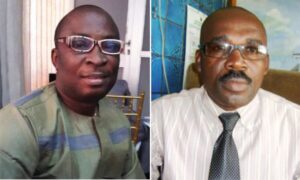 Briefing newsmen about what transpired when some executives of ANLCA visited the National Assembly to defend the allegations leveled against the association and other freight forwarders by the NCS of obstructing Customs from carrying out 100% physical examination of cargoes at the port, the Vice President of ANLCA, Dr. Kayode Farinto, said he was surprised to see that the former NAGAFF President arrived with officials of the NCS to speak against his colleagues before the committee
While also alleging that the former NAGAFF President who was recently removed did that for pecuniary gains, he however noted that ANLCA was able to establish and rebuffed the allegation.
He noted that, owing to the successful deliberation, the committee had directed that the initial Customs Consultative Council (CCC) be put in place for regular interaction between the Customs and Customs Licensed Agents.
He said: "We were at the National Assembly to defend the allegation leveled against us by Customs, but surprisingly the delegation of NCS had in their camps, Increase Uche, and the President of APFFLON Otunba Frank Ogunojemite who stood by the Customs to say freight forwarders are the ones actually falsifying documents, but we thank God there are things that will judge everybody and that's posterity
"As a matter of fact, Increase is not a license customs agent, we are the one that wears the shoe and we know where it pinches, Increase is just a freight forwarder, we made the house to know that day, we had to defend our paper in eleven pages fortunately customs does not have anywhere to hide to.
"We presented our facts and coincidentally and luckily just few hours to that time, Okonjo Iweala spoke about the fact that most of our things are too expensive in Nigeria, particular Customs cost, few hours to that time Dr. Akinwunmi Adesina, also spoke, so these are the facts that we presented and we made about five letters which the chairman of the committee showed us, and some different interest group completely about Customs modus operandi.
"Eventually it was a very hot debate, but we thank God, it was a successful one, the House of Reps has now directed that the initial Customs Consultative Council which was in place during the former CG era which we use to synergies and rub mind should be resuscitated, so that we can know the way forward where there are issues that we believe we need to be strengthened it will be strengthened that is what we achieve" he said
However, reacting to the allegations, the former NAGAFF President; Chief. Increase Uche, denied that he was at the National Assembly for pecuniary gains, even as he described the petition raised by ANLCA as frivolous,
He added that the ANLCA Vice President has always been known for blackmailing Customs for pecuniary gains.
Uche said after the meeting, he has received several threatening messages from the ANLCA Vice President
According to him, "Farinto is being economical with the truth, even the worst freight forwarder in the industry cannot write such a petition against the Nigeria Customs Service to the National Assembly for that matter, if he has issues with Customs, must he indict other freight forwarders.
"I am so disappointed over the character of somebody like Dr. Kayode Farinto, he has been in the habits of writing to blackmail officers, writing frivolous petitions against heads of government agencies, even the finance ministry.
"He cannot use his own personal issue to implicate independent freight forwarders, the worst is that whenever he has issues with the Customs, he will raise those issues and try to lure-in other freight forwarders.
"I am not afraid of Farinto, all the text messages he his sending to me, we are taking record of it, we rose from that meeting only for him and his other excos, to start calling the founder of NAGAFF. I don't know why they were calling the founder to tell him they met me at the National Assembly, I have been going to National Assembly to defend the interest of freight forwarders, I am a patriot, so I went there to defend the interest of freight forwarders
"The game they went to National Assembly for was to make money from Customs, they've been doing that for long, Farinto will initiate the allegations, he will initiate it and then he will try to bring in other non-interest parties just to make money from Customs", he alleged.
"He who must go to equity must go with clean hands, if anything happens to me he should be held responsible", he alerted.
He should not push me to the walls, we all know what he was doing in the port as far back as 2001-2002, Farinto should not push me further, if not, I will open his can of worms, people know him and they also know the kind of person I am, I am ready to challenge him, I wouldn't want to say more than that", he said.
Kindly like us on Facebook