A new queuing system for containerships is to be introduced by the San Pedro Bay ports of Long Beach and Los Angeles to speed up the movement of cargo and cut emissions.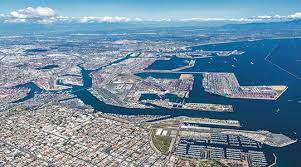 The measure, which comes into effect on November 16, will require incoming vessels to be assigned a place in the arrival queue based on their departure time from their last port of call.
Ships will then be required to wait 150 miles off the coast of Southern California until a berth becomes available for them.
"This new procedure will improve maritime safety and air quality while helping ensure ports operate as efficiently as possible," said Jim McKenna, chief executive of the Pacific Maritime Association, which represents ocean carriers and marine terminals in labour negotiations.
The system has been devised by the association with the Pacific Merchant Shipping Association, which lobbies for ocean carriers and marine terminal operators, and the Marine Exchange of Southern California, the vessel traffic manager for the adjacent ports.
The three organisations said the new system will allow ships to slow their speed and spread out, reducing the high concentration of vessels at anchor before the onset of stormy winter weather while also decreasing emissions near the coastline.
"At the current rate, it may take four to six weeks to get down to the desired levels of vessels at anchor," said Capt James Kipling Louttit, executive director of Marine Exchange of Southern California, adding the aim was 25-35 vessels waiting to be handled instead of the 96 reported on November 10.
San Pedro Bay ports have already taken action to improve cargo movement to tackle congestion and record volumes. The ports of Long Beach and Los Angeles introduced a surcharge on ocean carriers for import containers that dwell on marine terminals.
High numbers of containerships awaiting berths concentrated in close proximity to each other and to the shore currently represent a safety hazard, especially as the region's storm season is now approaching.
In January, 20 ships weighed anchor and took to the open sea in the face of high winds and ocean swells reaching 15 ft in the designated anchorages off the San Pedro Bay ports.
State legislator Michelle Steele has introduced a bill seeking to ban ships idling or anchoring 24 nautical miles or less off the Southern California coast, calling them "an environmental and public health crisis."
It is hoped a queuing system will reduce ship emissions near the coastline, an important consideration given the pledge signed at the COP26 summit by 20 countries, including the US, to develop at least six green shipping corridors between two or more ports by 2025 and "many more" by 2030.
"In shipping, in particular, there's a paradox. On one hand, pound for pound, it is typically the least carbon-intensive means of moving goods," US Transportation Secretary Pete Buttigieg said. "And yet there is so much of it, consuming so much fuel, that it represents an enormous source of emissions."
Patrick O'Donnell, chairman of the California legislature's Select Committee on Ports and Goods Movement, underlined the adverse impacts of increased emissions from the ships idling off the coast of Southern California.
"Port congestion has become an environmental problem leading to a significant increase in emissions, which has a detriment detrimental impact on our air quality," he told a hearing on November 3. "The San Pedro Bay ports saw a 50% increase in cargo compared with the same period in 2019, which resulted in an increase of 14.5 tons per day of oxides of nitrogen."
Kindly like us on Facebook