By Joshua Yousouph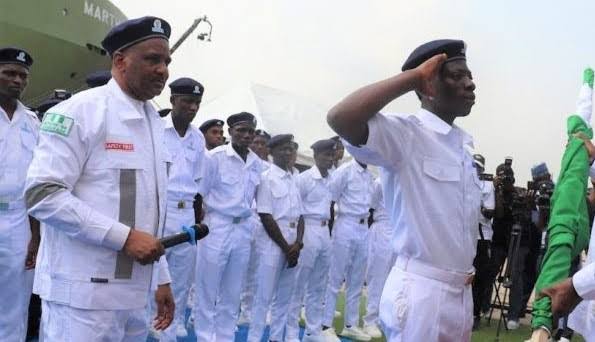 Stakeholders in the maritime industry, especially seafarers have picked holes in the claims by the Nigerian Maritime Administration and Safety Agency (NIMASA) that it has placed more than 11,956 Nigerian seafarers on Cabotage vessels within the space of less than two years.
Shipping Position Daily recalls that recently NIMASA through an official statement signed by its Assistant Director, Public Relations, Mr Osagie Edward, NIMASA claimed that a total of 11,956 Nigerian seafarers have been placed onboard Cabotage vessels from January 2021 to July 2023.
According to the statement, 3,705 seafarers were placed on board Cabotage vessels in 2021, 7,238 seafarers were placed on vessels in 2022 and 1013 were placed between January and July 2023, under the administration of the agency's current Director General, Dr Bashir Jamoh.
He said that to a considerable extent, NIMASA had ensured the placement of Nigerian seafarers on board Cabotage vessels in line with its placement function and the provisions of the Cabotage Act, 2003.
"Improving on this, Cabotage manning applications are now processed on the condition that all foreign crew, especially ratings on board vessels are to be replaced with Nigerian seafarers/cadets within two to three weeks of operations.
"Resultantly, 539 Nigerian seafarers have been recommended for replacement in the first quarter of 2023," he said.
Flaunting these achievements, Osagie claimed that" Overall, a total of 11,956 Nigerian seafarers have been placed onboard Cabotage vessels from January 2021 to July- 2023", Osagie said.
Miffed by the claims, stakeholders last week called out both NIMASA and its Director General to provide evidence of the beneficiaries and the identities of the Cabotage ships that they were placed on.
Speaking with various stakeholders last week, they expressed doubts over the statistics released by NIMASA. They stated that the figures were not justifiable, going by the current rate of unemployment among seafarers in the country.
A seafarer and President of the Alumni Association of the Federal College of Fisheries and Marine Technology (FCFMT), Captain William Ogunsakin noted that the figures given by NIMASA are unrealistic and will need to be proven.
Ogunsakin cited data from 2020, which indicated that Nigeria had approximately 6,000 seafarers, with women making up about 9.4 per cent of that number. In the same year, according to him, the Maritime Academy of Nigeria, Oron had 250 students, of which 26 were female, constituting about 10.4 per cent of the student body.
Further disproving NIMASA's claims, the foremost seafarer stated that as at 2020, the National Seafarers Development Programme (NSDP) had only trained 2,041 cadets.
Ogunsakin however expressed shock over the sudden significant growth in the number of seafarers between 2021 and 2023. He argued that there is no correlation between the number of cadets that have graduated and the number that NIMASA claimed to have employed on vessels.
According to him, even if NIMASA has been able to place over 11,000 Nigerian seafarers on Cabotage vessels within the period under review, as it claimed, only less than 2000 seafarers will currently have jobs.
The Alumni Association President decried the multiplicity of maritime training institutions in the country, adding that there are no vessels or effective efforts by NIMASA to create jobs to absorb them. He alleged that the figure might have been padded by NIMASA because of the large number of students in these training institutions.
"When I saw that information, I became worried about how the figures came to be. As at 2020, statistics show that Nigeria's seafarers are about 6,000 and out of which we have about 9.4 percent of them to be women.  In the registry, we had 5,472 men and 567 as females. At that year Maritime Academy Oron had 250 students out of which 26 of them were female which is about 10.4 percent of the students in that year.
"As at 2020, the NSDP programme recorded only 2041 trained cadets, out of these cadets, 204 were females which was 4.9 per cent of the people. How come there is a rapid growth between 2021 and 2023.
Speaking specifically to the figures quoted by NIMASA, Capt Ogunshakin said: "How can we justify this growth? What is our happiness about it? Are they (NIMASA) now saying we have now got more ships that will make the explosion of Nigerian seafarers or what is the rationale behind the number?
"NIMASA will need to prove the authenticity of this claim. Even if they have 11,000 people, I can bet you that the one that has jobs will not be more than 2000. Amongst every 10 seafarers, only one person is having a job. Why are they producing people en-mass when there is no job? I believe we are not near that figure. Even 50 vessels cannot accommodate 11,000 seafarers" Ogunsakin concluded.
Also speaking, the Secretary-General of the Merchant Seafarers Association of Nigeria (MESAN), Captain Alfred Oniye expressed reservations about the authenticity of NIMASA's claim, alleging that it might have been cooked up and not necessarily from the agency.
Oniye alleged that NIMASA cannot boast of providing employment for 200 seafarers among the over 3,000 Nigerian seafarers the agency has trained under the NSDP. He also noted that there are currently no Cabotage vessels that can accommodate that huge number of seafarers in the country.
The MESAN Secretary General however called on NIMASA to publish the names of the seafarers it claimed to have placed onboard Cabotage vessels between 2021 and 2023 as well as the names of the companies that employed them.
He told our correspondent last week that: "How does that sound? I still don't want to believe that that news is coming from NIMASA. That will be a slap on the seafarers. NIMASA has trained not less than 3,000 seafarers and they cannot tell me that they have employed 200 seafarers amongst them through the NSDP.  The fact remains that if they claim to have employed almost 12,000,  that is very huge. If that is true, then it would be a major breakthrough for the country and not even NIMASA.
"If they claimed that they have placed close to 12,000 Nigerian seafarers on Cabotage vessels, then they should publish the names of the companies and the seafarers. This is not going to be a breach of their privacy because it is public information. If they cannot do that, then that is a blatant lie. I can't believe NIMASA will lie comfortably. Anything that doesn't have a proof is false information.
"Where are the vessels in Nigeria? It implies that each of those vessels accommodated 22 crew members each. Where are those vessels? I see this information as misleading information to the public. If what they are saying is true, let them come out and defend it. It is a big slap on a seafarer's face. If they truly have the evidence, let them publish the names of the seafarers and the companies. I perceive this is not coming from NIMASA; someone must have cooked it from somewhere. I don't believe it is real", Oniye noted.
The immediate past National President of the Nigerian Merchant Navy Officers and Water Transport Senior Staff Association (NMNO/WTSSA), Engr. Matthew Alalade said the figures released by NIMASA are not realistic, adding that it is just a ploy to cajole the public.
Alalade called on NIMASA to rather provide specialized training courses for seafarers and create more jobs for those currently unemployed.
"I don't think NIMASA is realistic. Is it those working on board or people that have been replaced? Those working onboard are different from replaced people. People have been there before. Personally, I think that is just a cajole. They cannot say the number contains those who have been employed".
"What we want them to do is to train more people, especially on specialized courses for training. I don't know how they got that figure. I don't know whether they are the one who recruited them or the people who sourced for their jobs on their own and got employment. It is not that NIMASA directly engaged them. Personally I think it is not justifiable for NIMASA to say so", he stressed.
On his part, the President of the National Association of Masters Mariners (NAMM) Captain Tajudeen Alao told our correspondent that the figure NIMASA gave out must have been taken from the Maritime Labour Department of the agency, which is responsible for crew employment and cadet placement and training.
Alao further stressed that the figures should be verifiable at the agency to clear doubts from the minds of stakeholders in the industry.