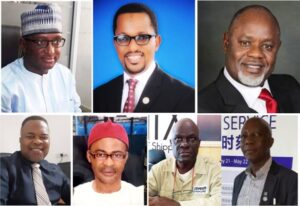 Aminu Umar (Ship Owner)
In terms of operations as a ship owner, we look at the operation of the ports, so in terms of operation I believe she has done wonderfully well, there is a lot of improvement in terms of equipment required by ships before coming into harbor; pilotage cutters, tugboats and the rest of them, Hadiza has done wonderfully well; compared to her predecessors; facilities that were not in use before are now in use now, so I believe she has done well.
Dr. Segun Musa (Freight Forwarder)
Hadiza is a just a politician that knows little or nothing about the maritime sector, why can't we put professionals who understand the job to be at the helm of affairs, she spent almost four years in learning the job; four years that would have been productive. I think all of them have failed including the Minister himself and all other heads of agencies, Shippers Council, NIMASA; all of them have failed and they should be removed.
Greg Ogbeifun (Ship Owner)
In my own personal opinion, I think she was a very good Chief Executive Officer of NPA, when you compare her deliverables to that of her immediate predecessor, she has taken the agency to a very enviable height in terms of achievement and her bold decisions. But I am not in a position to comment on her policy compliance or non-compliances.
Frank Ogunojemite (APFFLON President)
If government says she should step aside, that's a good move, but it should not be limited to her alone, we have seen that there is need for transparency of all heads of agencies. I won't be able to comment on whether you have done well or not, until the outcome of the investigation. However, I think she has had her time, so due to lack of transparency, I will not be able to give an assessment of her performance.
Dr Osita Chukwu (National Coordinator SNFFIEC)
As far as I am concerned, the woman has done well. Probably, she does not want to succumb to their calls, as regards monetary benefits, because some of them can frame up somebody, even though you have done a good job. That woman has courage and I know she is not a compromised human being, even when they force her, she will not succumb. This is somebody that has come to work, she meant whatever she said and she was working.
Capt Tajudeen Alao (NAMM President)
I believe she performed, she did well, she had gone after those people who refused to do the channels, she face those who her predecessor will not face, she faced them without even taking so much, we saw the way she did, even though powerful people were behind it. To me I believe she performed in the last four years whether they remove her or not, the person who hire in any case can also fire.Babatunde Mukaila (ANLCA National Secretary)
Hadiza Bala Usman has come, seen and conquered. I am confident that she will come out of this unhurt. She has been the most responsive NPA MD in the history of the organisation. I cannot come to term that this woman is reckless as she is being painted.