"In as much as the NPA and the Police are still there, the e-call up system will be a total failure"
"ANLCA has gone 30 years backward because of bad leadership"
Sir John Oforbike (Dan Katsina) is a member of the NECOM that was suspended by the Court. Before then, he was Zonal Coordinator (South West) of the Association of the Nigeria Licensed Customs Agents (ANLCA). In this interview with Oluyinka Onigbinde (assisted by Adewale Buraimoh), he speaks on the crisis in the association, the way out and other industry issues.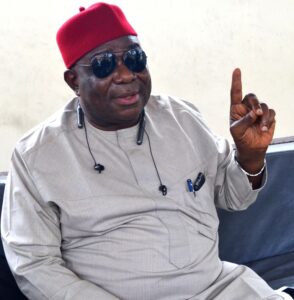 The Nigerian Customs Service collected about #1.3trn in the first half of the year. Are you impressed by this?
Definitely I'm impressed because when the customs generate more money, it will go down to the common man. Salaries will be paid, infrastructure will be improved and every other thing will fall in place. I'm very happy that they have generated so much revenue.
Do you think they can do much better?
Why this revenue is being generated is because the Customs management has sent the right people to be at the right places. Most of the Controllers they have are Comptrollers who are tested and trusted. They have been in the system for years. They are computer and IT-compliant. They are digital Customs officers. For instance, in Apapa, I've known the man you see there for years. He is very cool headed, quiet and very intelligent. He has worked in so many areas. That is why they were able to generate revenue that has never been generated in history, even in Apapa. This is because they have put a round peg in a round hole. Having said that, I know they'll continue to improve because everyone wants them to be active. The CGC who sent them there know their worth and they'll want to improve on what they have got. Definitely I know that they will do more as cargoes are coming in.
There has been apprehension about the way Nigeria Customs Service set up different taskforces and checkpoints at various entry points into the country. What's your reaction to this?
I have been in this industry for years. Most of the times the Customs set up a taskforce, it doesn't last more than six months and not up to one year, they disband them. There must be a purpose for setting up a taskforce. It is to make sure that people comply with the rules and regulations. When compliance is low, the government sets up a task force. The taskforce set up by the government that has been in place for years now has been of great assistance in revenue generation. For instance, if you go to Zone 'A' at Ikeja, the Controller was promoted because through the taskforce set in place, he recovered so many billions of Naira that would have been a total loss. This revenue would have gone down the drain if they were not there to do checks and balances. I believe until the importers do the right thing, the task force will continue to be put in place. I'm not against them being there, but they should work more on intelligence and not just putting permanent road blocks which is creating a very bad image for the Nigeria Customs Service, insecurity, hazards for the owners of the goods and even traffic on the roads. My advice is that they use intelligence information in handling their processes but they are doing so much.
What is your assessment of the e-call up system of the Nigerian Port Authority so far?
The e-call up system is a total failure. In as much as the NPA and the Police are still there, the place will be a total failure because of corruption. Some people are there making millions of Naira every day and overnight you want to stop them. They are going to sabotage it. Even if you bring an angel from heaven, it can never work. There is corruption in the system. Go and ask the transporters how much they pay to get their containers inside the port, even with the call up system. In as much as that call up system has been generated by human beings, the human contact is still there. So they will never get it right until you kill the corruption and the people behind it. You have to overhaul and remove them entirely. Bring in a new set of people that have never been into the system before probably from the North or the East then change them. If you don't do that, the call up system can never work because of human contact. For you to get a truck from here to Ojuelegba, you will be asked to pay ?400,000 to ?500,000, from here to Oshodi or Ijora warehouse you will be asked to pay ?700,000. When the so-called security people collect this money from them, the importers will add it to the cost of the goods and the end users will suffer it.
What is your take on the confusion as regards the tenure of the governing council of CRFFN?
How was the election conducted? Was it by appointment, selection or by election? How can somebody say he won an election with one or two votes and you say "No" to someone with 10 votes? There is a law establishing the Council. What does the Act say about the tenure? In as much as some people are still on that board, people like Henry Njoku, you will understand that the people in this present board may not leave office until after 10 or 12 years. They will want to stay there permanently. In as much as these people who need power are still there, their tenure cannot end. Since we have done the first election in Abuja, we were looking at the CRFFN as an umbrella that will help the maritime industry but at the end of it, I discovered that it is just nothing. I'm personally not interested in the CRFFN any longer. This is because I have seen that the government has hijacked everything. I know they are there for their own interest. Every one of them is cruising with a Hilux Jeep that is worth millions of Naira, enjoying the comfort of the vehicle. So do you expect them to leave? If the system is working and the tenure is two years, once its two years then you are expected to leave and hand over the property of the council. But there is no law here. Go and look at the history of the people there. Whatever they grab, it is very difficult to get it out of their hands or else they'll cause confusion. They have decided not to leave because of the POF they want to collect.
What's your take about the collection of the POF?
Why was the Council established? Is it to collect money from people? In this country anyone can mount a road block and be collecting money and it will be legalized. However, it is the end users that will bear it, because it is the importer that is paying. Any money he adds to the cargo will be inflated on the goods and the end users will suffer. They have calculated the amount they will get, that is why they want to die there.
The crisis in ANLCA has lingered for almost 4 years now. What do you think is the way out?
The Bible says when a righteous man is on the throne, the people will rejoice. When Anthony Iju Nwabunike came and asked me to campaign for him, I told him I could not work for him because if he comes on board, the association will die because I know his antecedent. I am not expecting anything different from what I'm seeing. I have once mentioned that there will be serious problems and all the glory of the association will go down. I prophesied it and it is coming to pass. Some people will call me prophet, because I know we cannot achieve anything. But it is quite unfortunate that an Igbo man is there and it is the tenure of the Igbos that has been turned upside-down. By next year March, he would have done four years, what has he achieved, nothing. A Yoruba man, Shittu was there and he took us all around the world. He made ANLCA the darling of everybody. The moment ANLCA sneezes, everyone catches a cold, but where are we today? Look at the people who are agitators, who wanted power by all means. What is happening is terrible and it has never happened before. We have received different court cases left and right and let us see what the court is going to do. As it is, ANLCA has gone 30 years backward because of bad leadership. We have never had it so bad and this is because the man in charge of the affairs has absolutely nothing to offer. I pray God helps us.
You have severally alleged that Tony Iju swore to be the last President of the association. Can you share more insight as to where and when he said so?
I'm a Christian, I swear in the name of God, he told me that. Even if you ask Kayode Farinto, he will confirm it, he told Inua Muhammed. He told me plainly because he brought me close. You know his way is to divide and rule. He said the Yorubas are giving him problem. He complained about Farinto and betrayals from people. I know his system is to divide and rule. He told me if this problem continues, he is going to be the last President of ANLCA and he is going to destroy it. He told me and we can see that all his actions show that the man is heading that way. You don't need any prophet to tell you that this man meant his intentions to destroy the association. The court said step aside, it was a valid court order and I was served. I told my Lawyer and he asked me to comply and I listened. He said he wants to be the last President, but I want to tell him he is not God. ANLCA is greater than him, he cannot do it. ANLCA is older than him, how old is he? He cannot destroy ANLCA, never; he can't.
What is your faction willing to give to ensure peace in the association?
Tony Iju came to factionalize ANLCA. Look at the constitution, if you want to achieve peace, there must be justice. Everyone is talking about peace, but no one is talking about justice. How can the peace come? Definitely it cannot come. We have to talk about the justice. We should ask ourselves what led to what we have today. What is the root of all these problems? There are actions and reactions. In the first place when Iju group and Peter Obi went to court to institute a case; that was the genesis of everything and they continued dancing naked from one place to another contravening. We are going to see the end of it. Nigerian court is very slow, but very effective at the end of it.
Kindly like us on Facebook