The government of Canada has announced a major investment in its port infrastructure. Laying the foundation for the future, Canada has presented plans to invest in the Saguenay Port and Vancouver. Saguenay Port serves the industrial belt of Saguenay-Lac-St-Jean whereas Vancouver is the busiest port of the country and is the key gateway for Asian trade.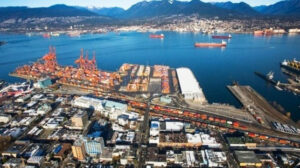 Omar Alghabra, the Transport Minister of Canada along with Pablo Rodriguez, the leader of Government in the House of Commons and Quebec Lieutenant, announced an investment worth $33 million for the Saguenay Port through the National Trade Corridors Fund. The fund will be utilized for improving the performance and function of the facilities at the port and increase cargo handling capacity to reduce bottlenecks in daily operations.
Stephane Bedard, Chairman of the Board of Directors of Port of Saguenay has said that this contribution from the Government of Canada will help Port of Saguenay to electrify its bulk cargo operations. Under the project, Saguenay Port will be getting an electric mechanized transport system installed for transporting the bulk materials. Through this system, cargo will be moved between docks at Grande-Anse Marine Terminal and the industrial port zone of Saguenay.
Honorable Omar Alghabra has said that by investing and improving the efficiency of Saguenay Port, Canada is building back its economy, creating quality middle-class jobs, and ensuring that the transportation system remains competitive.
For the Port of Vancouver and Southern British Columbia, the Ministry has announced plans to improve the vessel traffic flow. A new collaborative system is to be designed to manage marine vessels and optimize the supply chain flow for Vancouver. This system will help ports in reducing congestions and improving the efficiency and reliability of the flow of goods for shippers.
Kindly like us on Facebook