Apparently determined to rejig the electronic call-up system, the Nigerian Ports Authority(NPA) has approved the sack of six of the truck parks that are being used in the new call-up system.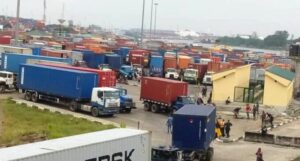 The sack was announced in a statement that was issued on Sunday by operators of the e-call up system; Messrs Truck Transit Park(TTP).
The operators gave the names of the truck parks as: Bomarah, Jof, Sodik Garage, Spezial Bau, Anet Construction and Rely Global.
The affected truck parks were accused of various infractions in the electronic call-up system.
The terse statement which was sighted by Shipping Position Daily, reads: "Kindly be informed that NPA has approved that the following Parks should be blacklisted for various infractions, including pre-gating by proxy".
"Please note that trucks that were Pregated through these parks will not be allowed into the ports, even if they're on the current manifest", the company said, even as it added that, "the electronic copy of the manifest will be updated to reflect this directive".
Unofficial sources hinted that, the sack of the six parks may have been informed by abuse of the recent rearrangement and booking for trucks in the new system.
The operators had last Friday ordered stoppage of bookings for trucks "temporarily in order to clear the backlog of trucks that were booked for port entry before the Presidential visit", last Thursday.
The company had added that, "based on this, a daily manifest will be generated from Ètò each day for all trucks that have been Pregated as at 10th of June that are yet to access the port. The manifest will be shared with all customers while truck owners inform the drivers of their trucks that are on the list/manifest to proceed to their various Port destinations according to their allotted time".
The company was to later direct that booking have been reopened for trucks on the Eto Platform.
On Friday, it said that, "kindly be informed that bookings have now been opened. This is to enable trucks available to start processing their way to parks. Please note that matching is currently not available until Monday, June 14, 2021. The booking of parks does not entitle the trucks to proceed to a pregate or the port.
"The use of the manifest for trucks pregated out before June 10, 2021 and the movement of truck categories according to their respective time belts is still in force".
Even though, none of the affected truck parks could be reached for their reaction, sources hinted that, more truck parks may be axed in the coming weeks.