A non-government organisation (NGO); the Data Centre for Rural Development has called for the removal of the recently-appointed acting managing director of the Nigerian Ports Authourity (NPA); Mr Mohammed Koko.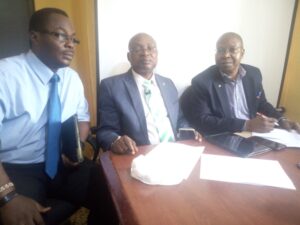 Speaking to journalists in Lagos on Wednesday, one of the directors of the NGO; Mr Moses Uvomata, said the group was also calling for the removal of the head of the committee that is currently probing the suspended managing director of the NPA; Hadiza Bala-Usman.
According to the Data Centre for Rural Development, the acting MD of NPA, in his capacity as the Executive Director in charge of Finance and Administration can not exonerate himself from whatever financial rot that allegedly took place during the period under probe.
According to Uvomata, who was flanked by other directors of the NGO; Mr Martins Orogun and Mr David Jaiyeoba, 'the head of every organization and the board/management are jointly and severally responsible for all acts of right or wrongdoing in that organization".
Specifically, the NGO asked: "Why should the Nigerian Government suspend the Managing Director, Hadiza Bala-Usman of NPA and keep the Executive Director of Finance and Admin, Mohammed Bello-Koko who is actually responsible for initiating remittances in question?". It also questioned the position of the chairman of the probe panel; Mr Suleiman Auwalu, who is also a director in the Ministry of Transportation as well as being a member of the board of the NPA, when the alleged infractions were committed.
"And why should a member of the board Suleiman Auwalu (Director of Marine Services in the MOT) head the probe panel?", it asked further, even as it added that, "this probably sounds like being the judge of your own case".
Read Also: Rivers Gov; Wike Applauds NIMASA's Strategy On Blue Economy
Data Centre for Rural Development stated that if the Executive Director, Finance "had implemented the right ERP solution, these figures will come out automatically".
The group called for the immediate suspension of Mohammed Bello-Koko, the Director of Finance and also the immediate change of the head of the probe panel.
"After the probe, NPA should acquire the appropriate ERP that can automate her accounting processes to avoid future occurrences of issues of this sort", the NGO counselled.