Gulf of Guinea nations have banded together to crack down on illegal fishing, which environmental groups blame on Chinese boats that are decimating West Africa's fish stocks and fishing communities along the coastline.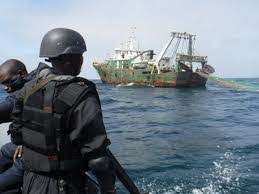 Chinese boats are decimating West Africa's fish stocks and fishing communities in the Gulf of Guinea, say environmental groups. The Institute for Security Studies, a South African think tank, said the communities could be losing more than $2 billion each year to illegal fishing, mainly from Chinese-owned boats.
Local community leaders and fishermen blame the problem in part on techniques that catch fish before the fish are fully developed. The Environmental Justice Foundation said illegal fishing boats in Ghana use Ghanaian flags, but 90% were traced to Chinese owners. China has repeatedly denied wrongdoing, with one article in the state-affiliated Global Times newspaper last year rejecting what it called "Western media rumors" of China's illegal fishing and saying Beijing had tightened oversight of deep-sea fishing boats.
In June 2017, a total of 19 African countries launched an EU-funded network to tackle piracy, high seas robbery, kidnappings and human trafficking in the strategically important Gulf of Guinea. Earlier this year, Gulf of Guinea nations joined forces to crack down on illegal fishing. Benin, Ghana and Togo agreed to joint patrols and information-sharing with support from the European Fisheries Control Agency through a center in Accra, Ghana. But the agency's executive director, Susan Steele, said more efforts are needed. "Legislation, operations, training and cooperation," she said. "One of the key things you want to be looking for is to make sure there are consequences for the people doing illegal fishing." Some fishermen have reported that the joint patrols seemed to be helping, and fish stocks are showing signs of improvement.
shippingposition
Kindly like us on Facebook/twitter