"We don't have issues or conflicts with any association within the maritime industry"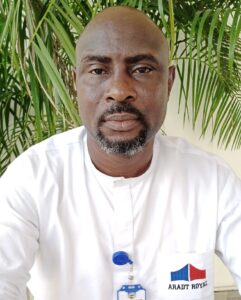 In this interview with Shipping Position Daily, the President of Council of Maritime Transport Unions and Associations (COMTUA); Comrade Adeyinka Aroyewun speaks about the challenges of trucking business in Nigeria, as well as related matters.
What is your plan for COMTUA in 2022?
Our agenda for 2022 is that we want to ensure our members work within a very good and enabling business environment in order to maximize our profit. We want to ensure safety of lives and properties, an accident-free year, and also make sure that our members work within the international working standard.
What are your expectations for this year?
We are expecting the government to come to our aid, especially in the area of the bad roads, particularly the Mile 2 to Tin Can access road. The roads from Coconut- Tin-Can – Apapa are perfect and excellent. They (government) were able to achieve that within one or two years. We are expecting the same thing with the Apapa- Oshodi expressway which they have commenced from Ijesha and hopefully, before the end of the year, we will be able to achieve this.
The artificial gridlock is caused by the illegal operators who engage in extortion, some of them are agents of the State, while some are not. We have the State actor and Non-State actors. The State actors are at LASTMA, FRSC, Police, and some agencies of the Lagos State government. Many of them are there forming artificial checkpoints. They will be checking irrelevancies vis a vis Eto Call-up and all those things with the aim of extorting our members. We want to see to the end of that. We have taken a bold step by reporting that to relevant authorities and agencies of government and hopefully within a very short time, we will be able to eradicate all of that.
You have been going around meeting some stakeholders in the industry. What informed this and what do you intend to achieve?
There is strength in unity. We need to synergize in everything we are doing. We want everyone who has anything to do with the maritime industry to come together and achieve results. The moment we are able to solve the problems of the maritime industry, especially the transportation area of it, we would succeed in reducing the cost of goods and services to the barest minimum. This is because it is a logistics thing from the importers to the final consumer. There is no way the transport sector will not play a very important role. Be that as it may, we cannot achieve it alone. We need everybody that is relevant to that chain. This includes the importers, clearing and forwarding agents, Customs, law enforcement agencies, and all state agencies that have anything to do with logistics. We are trying to bring everybody together so that we are on the same page; to be able to achieve the ultimate ambition of bringing the cost of goods to the barest minimum. We should know that next to oil in terms of revenue generation for the federal government. For example, the Customs said they generated trillions of naira from imports and exports. This means if they pay more attention to this and all stakeholders work together to achieve an enabling business environment, we would succeed a lot in generating more revenue for the government.
Recently, you visited the Aare Oona Kakanfo of the Yoruba land, Gani Adams. What kind of collaboration do you want from OPC?
It is not only OPC. It is the entire South West Security architecture. We have the OPC, Amotekun, Agbekoya, and the rest of them. Our purpose of visiting Iba Gani Adams and requesting his collaboration is to further strengthen the area of security. We have a lot of issues bothering on security, such as the hijacking of containers, harassment of drivers and vandalization of our trucks. Most of the time, you will see hoodlums and touts parading themselves as pseudo-OPC members who are not representing the interest and identity of the OPC. We had to meet with him (Gani Adams) to be able to address these issues together especially in the area of insecurity bordering on the hijacking of containers. For instance, for containers to move between the port and the destination, you'll just find some people bearing arms and carting away these containers and trucks. Security is everybody's business and should not be limited to the Police or government agencies alone. We can see the good works that the Amotekun and the local security architecture is also doing in Nigeria. So we think if we are able to partner with this body, it will make life more meaningful for our people. We had a good deliberation and he has promised to collaborate with us. COMTUA has also agreed to make him one of our special patrons.
Does that not mean that you have lost interest in the conventional security apparatus of the Government?
No, it doesn't mean that. This is because we were with the Assistant Inspector General of Police Zone 2 who also promised us that he is going to ensure the security of lives and properties not only of our members but the entire Nigerians under his jurisdiction. We also have a collaboration with the Maritime Police headed by the AIG Maritime. We don't want to limit it to the conventional Police or the Army. We want everybody to come on board, so that we are able to achieve a very good security structure.
You have called for a rejig of the NPA Call Up System. What exactly do you have in mind?
There is no doubt about it, the Call-Up regime has actually failed, because it doesn't have a good footing. What I mean by this is that NPA taking the responsibilities of other agencies of government to leave the the port and say they are building garages at Oshodi and Ikeja. This is outside their jurisdiction and they don't have any right to do such. In view of this, they are not able to do it properly. Garages are built and you see a lot of rackets in the process of doing this. We think things should be done properly. You cannot shave anybody's head behind him. We are the actors and operators. You set up a committee for Call Up and enforcement, and you have not included the actors of the stakeholders and you expect it to work. At the end of the day, you promised that we are going to pay N10,000 to get to the port in 24 hours, but we are now paying N22,500 and we are not in the port in 48 hours or even in two weeks as the case may be. They will approve the movement of some trucks, they will be on the road and they will be there for one or two weeks. They are the same people that will invite LASTMA and the enforcement team to come and remove the trucks from the road. Those ones will tow our vehicles, impound them, and be expecting us to pay a very high amount of money. This is a contradiction. They said vehicles will only access the roads if they have the need to and you have the capacity to put this in place. If you are not able to achieve it, you don't push the burden onto the stakeholders whom you have not involved ab initio. We already have our own arrangement and local Call Up System of putting up our vehicles, ensuring they remain in the garages, and leaving their garages to the port when they have a genuine business to do in the port. We are also making sure that no vehicle is on the road without having any official business. This we have the right to do; to organize our members, and we want to start doing this before the end of this month, because we are writing to the NPA to notify them of our dissociation from their electronic call-up system. What they told us is that every vehicle that is terminal or port-bound is going to work with the Call Up System. As we speak, the Petroleum Tanker Drivers (PTD) under NUPENG go to the port as well and they don't use the Call-Up system and they have organized themselves properly. We agreed that with our collaboration with almost everybody in the industry, we would be able to organize ourselves better than what they are doing for us.
Will that not be confrontational?
We are not going to be confrontational about it. We have written to them (NPA). We are going to use the court and physical means to prove to everybody that we are able to comport ourselves within the confines of the law. This is because the NPA, as against the order of the court made an injunction placed on a minimum safety sticker asking us to pay N10,000 to get our vehicles. This is double taxation. We have already paid the Federal Government for roadworthiness and our vehicles have been certified to be roadworthy. But this time around, NPA said they are coming up with a minimum safety standard sticker. We are happy to ensure that our vehicles meet the minimum safety standard, but why should you attach a price of N10,000 per truck to it? At the end of the day, they get this N10,000 ,from vehicles claiming they have gone to inspect the vehicles without inspecting any vehicle. We challenged them at a meeting and listed some vehicles that have not been registered in the last five years with no MOT certificate, roadworthiness, or vehicle license, yet they have minimum safety standard stickers from you. This means their attention is more on the revenue than the safety that we all intend to achieve. So we are not going to be confrontational about it. We are going to use the court and our physical means to prove that we are able to do things properly. We have given an ultimatum and we will announce the ultimatum very soon to tell them that we are no longer going to patronize TTP and Eto Call Up again. We want to access the port orderly and we are not going to liter the road. We just want the cooperation of NPA to ensure that we are able to access the port without issues.
NPA as well as other government agencies have always complained about the state of trucks that your members have. What do you have to say about this?
Yes, I agree in totality that we have some trucks that are not road-worthy. These blames cannot be totally pushed to transporters. All these vehicles have roadworthiness certificates. The government has certified them road-worthy. We are not against the law. If there is any vehicle that is not road-worthy, the government should impose sanctions on those vehicles. The vehicles move on the road. Some go to Ikeja, Apapa, and every part of the country and they go and return. We have Road Safety and Lagos State officials on the road and if these vehicles are going and returning back to business, then it means the government is satisfied with their state. But, be that as it may, this year, this administration will ensure that we have a standard for the trucks of our members. Don't let us rule out this very vital information; every truck on the road does not necessarily belong to our collaboration. There are some that are aided by the government not to be organized and we see many of these rickety vehicles belonging to those people because they don't want to live by the regulations of the standard set by the union. We are going to ensure that all of our members are able to meet up the minimum international standard.
Do you also agree that the road between Mile 2 and Tin Can leading to Apapa is a very great hindrance to the effective traffic into Apapa?
It is, I agree with that. But if we have a proper monitoring team, we can still make sure that there is a resemblance of free flow. We still appeal to them (government) to ensure that this is taken care of within a very qualitative time.
What is the relationship between COMTUA and other truck owners' associations?
I have mentioned earlier that we have nine associations in COMTUA. We have about two and a half associations outside the collaboration. What I mean is that AMATO is factionalized as it is now. Chief Remi Ogungbemi is the President of a faction. As a matter of fact, I am a member of AMATO and I am representing the interest of AMATO at COMTUA. We want to cement this relationship to make sure that everybody is invited to the field as everyone works within COMTUA. We have the National Association of Road Transport Owners (NARTO). NARTO was a member of this collaboration. The immediate past chairman of the Board of Trustees in the person of Mr. Aloga is the Executive Secretary of NARTO and he was the Chairman Board of Trustees of COMTUA until the 16th of July when they wrote to disassociate themselves from COMTUA. COMTUA has not accepted their resignation. We have rather written to them to give more room and time for reconciliation. The Maritime Workers Union of Nigeria (MWUN) is not necessarily a trucking association. They are dock workers, shipping workers, and Seafarers. They were also a member of this collaboration. The Co-Chairman of the Board of Trustees was Comrade Adewale Adeyanju who is the current President General of the Union. MWUN also has a transport department, they have trucks as well. They have the right to be members of COMTUA as well. We have invited them again for further reconciliatory discussions and we hope to have them back. I want to assure you that we don't have issues or conflicts with any association within the maritime industry. Ours is to ensure an enabling business environment and welfare of our members. We have introduced a health insurance scheme to our members. We are introducing our own business unit, so that COMTUA trucks will form a fleet with our sticker. So if you bring your business to us, we can supply you with as many as 5,000 trucks at a go, to move your cargo and we would be able to identify the owners of those trucks and drivers to ensure the safety of your consignment. That is one of the reasons we have been moving around to ensure there is security from the conventional Police, Nigerian Army and our own local security.