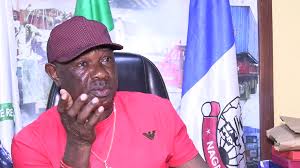 By Oluyinka Onigbinde
The founder of the National Association of Government Approved Freight Forwarders (NAGAFF), Dr. Boniface Aniebonam has lampooned members of the Association of Nigerian Licensed Customs Agents (ANLCA) over their failure to elect the former acting President of the association; Dr. Kayode Farinto as the president in the last election, that saw Emenike Nwokeoji emerged as the President.
Aniebonam in a no-holds-barred interview with our correspondent last week lamented that it is unfortunate that Farinto whom he described as his godson lost in the election. This is even as he said he does not see NAGAFF and ANLCA having a responsible partnership, following the emergence of Emenike Nwokeoji as President. "I don't see light in the tunnel in having a responsible partnership. It's unfortunate that Farinto, who is somehow modern, lost in their place", he disclosed.
Speaking further, the NAGAFF founder alleged the presence of what he describes as "cult-like behavior" within ANLCA. He claimed that many members blindly followed the decisions made by a select few, without room for independent thought or analysis. According to Aniebonam, this conformity stifled progress and innovation within the association.
Aniebonam emphasized the absence of a collective or individuals actively thinking for AN CLA's benefit, a role he asserts to be performing for NAGAFF. He questioned whether anyone within ANLCA was dedicated to strategizing for the association's betterment, highlighting a critical difference between the two associations.
He further alleged intimidation and fear that surrounded Kayode Farinto's candidacy for ANLCA's presidency. According to Aniebonam, Farinto was so intimidated that he hesitated to announce his candidacy openly to NAGAFF members, fearing that it would negatively affect his chances. He opined that this perceived injustice against a candidate with a strong understanding of the industry has left a bitter taste.
"Most of them (ANLCA) behave like people in a cult. Once they say we are going left, all of them will go left. Say they go right; all of them will go right; nobody will say no, let us wait, nobody is thinking for them, somebody must be thinking for my sister organization. I think for NAGAFF.
"You see, when you don't have any person or group of people thinking for an organization, it's a problem. If you talk about NAGAFF, I sleep and I think what would be the best for NAGAFF and the society down to the port. Is there anybody doing that for ANLCA again?   Farinto was doing that because I speak to most of them and I see where he is".
Speaking further, he said: "They have so much intimidated that boy (Farinto), that even in the last election, he didn't have the courage to even visit us in NAGAFF village here to tell us that he is contesting in the election, so that nobody will say he is collaborating with NAGAFF and look at what has happened. Some of their members are good friends of NAGAFF. Some of them are even my people that are very close to me, that I can give instruction regarding who to vote for"
Aniebonam, who openly confirmed that Farinto is his godson, disclosed a close personal and professional connection between them. He recounted a past incident where ANLCA leadership had betrayed Farinto and how he had supported him through challenging times, underscoring the depth of their relationship.
*Watch out for full interview next week