President Muhammadu Buhari recently inaugurated a project designed to prevent illegal activities in Nigeria's coastal waters and enforce maritime regulations. It also aims to prevent illegal activities on inland waterways.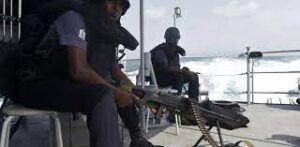 Known as the Deep Blue Project, it was initiated by the federal ministries of transportation and defence in 2017. It's being implemented by the Nigerian Maritime Administration and Safety Agency. Personnel have been hired from the navy, army, air force, police, and Department of State Services.
The $195 million project is said to be the first integrated maritime security strategy for West and Central Africa. It's designed to tackle piracy, sea robbery, and other crimes at sea in Nigerian waters and up to the the Gulf of Guinea.
The Gulf encompasses over 12 countries from Senegal to Angola. It's a strategic maritime domain with huge natural resources, and provides a critical route for international shipping.
Our mission is to share knowledge and inform decisions
But the region, and Nigeria in particular, has recorded frequent vicious attacks against vessels and multiple kidnapping of seafarers for ransom by pirate gangs. The gangs have evolved in sophistication. They have also extended attacks as far as 200 nautical miles from shore.
Most studies, including mine, affirm that the root of maritime insecurity in the Gulf of Guinea stems primarily from bad governance. Despite endowment with vast natural resources, most of the states parade some of the worst indices of human development. These include environmental devastation, high unemployment rates and widespread poverty generated by corruption and bad governance.
I also found that unsustainable practices of oil companies have destroyed traditional farming and fishing livelihood systems in coastal communities. This has forced some people to make desperate choices. With declining opportunities for legitimate livelihood amid affluence, some young people in the region take to criminality for survival.
Pervasive corruption among maritime security forces has made them unequipped to deal with security threats. The Deep Blue Project is obviously designed as a reactive intervention against piracy. Yet successfully countering the evolving threat depends on addressing enabling factors rather than just reacting to events. It also, crucially, must include avoiding mistakes made in the past.
The project's importance
Nigeria depends primarily on oil export through the Gulf of Guinea's maritime corridor for much of its revenue and foreign exchange earning. However, maritime threats cost it an estimated $26.3 billion annually.
Nigeria also accounts for 75% of crime in terms of incidents in the Gulf of Guinea, particularly piracy. The International Maritime Bureau said 135 crew were kidnapped from their vessels worldwide in 2020. The Gulf of Guinea accounted for over 95%.
In the first three months of 2021, the Gulf of Guinea accounted for 43% of all reported piracy incidents and 40 crew kidnapped. The pirate gangs originate almost exclusively from Nigeria.
As a result the global maritime community has consistently called for enhanced efforts to tackle piracy and maritime insecurity in the region.
This has led to the adoption of a host of national, regional and international initiatives. There is equally increasing deployment of naval forces by Denmark, France, Italy and the US.
To Be Continued next week
Kindly like us on Facebook