A maritime lien is designed in a manner that prevents the shipowner from selling the vessel with a clear record while it still under investigation. Thus, it is paramount that the lien must be discharged or terminated for future sales with a clear record. An analogy of this lien is as follows: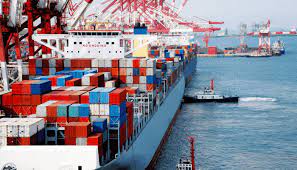 For a car involved in an accident, the condition of the car prior to the incident is important for investigators. Details of past services, accidents, and owners are also required to establish the role played by the driver (or car owner) in the incident.
If the vehicle is sold during the investigation, it may be difficult to trace and resume work on it. The new owner might have serviced it or moved to a different location.
Thus, a certificate must be issued prior to transferring ownership, stating that the vehicle is not involved in any ongoing investigations and has a clean record. Note, this certificate is for the vehicle and NOT for the car owner.
Similarly, for transferring ownership of a vessel, the lien must first be terminated. This is commonly achieved by way of settling the claim.
The owner can pay the fines, waive his ownership of the vessel, sell or auction it to the authorities for realizing payments of the affected parties, or legal foreclosure of the vessel. If the owner intends to pay the fines rather than auction the vessel, they must inform the court of maritime law at the earliest.
In rem auctions are commonly applied in case of international accidents, where the vessel is sold by legal authorities to a bidder, in exchange for clearing the vessel of any involvement in the incident. This ensures that the vessel can begin a new lease without being party to the incident, while the authorities can receive payment to fund the compensation efforts.
In certain extreme cases, destruction of the property under consideration (vessel or other equipment) can remove the shipowner's liability and the subsequent lien. Note, this can only be achieved by complete destruction of the vessel and not in part. Thus, attempting to salvage a section while continuing to operate the vessel is not grounds for terminating the lien. In such cases, the lien transfers to the operational section.
Lastly, certain types of judicial rulings state that the lien must be claimed within a set period. This indicates that the individual or organization claiming the lien has exercised due diligence under good faith. This is used to prevent the claimant from going back on their word to claim and recover damages at the earliest. It is also known as "estoppel" in legal terms, and is classified as a form of judicial sanctions.
A few of the important features and characteristics of maritime lien can be explained as follows:
A maritime lien can be terminated if the vessel is destroyed. However, if the ship has been demolished partially then the lien will be still applicable. Another way of terminating the lien against the person who holds the lien papers is if the marine admiralty finds that the enforcing of the lien has not been done on time
The lateness in the enforcing of the maritime lien by the lien holder to judge whether the lien needs to be terminated or not, is decided on the basis of the causes and factors of the delay. There is a specified time period provided by which the lienholder has to file the claim for the lien
The ship's parts that come under the purview of maritime lien are the hull, engines, lighters, scows and tackles. The amount raised by the sale of these equipment is used to settle the maritime lien to the lienholder
The causes for a maritime lien arising are accidents to the vessel and thereby injuries to the ship's personnel in the oceanic waters or because of mortgage transactions. This means that any sort of damage caused because of the ship and indirectly because of the ship's equipment will invoke the application of maritime lien
In order to claim the damages, the lienholder must take an action by applying in the courts. In case of multiple maritime lien and shortage of funds, the claims with the highest amount of priority get the compensation
A maritime lien is an exhaustive series of legal measures to safeguard the rights of affected parties, and this requires detailed features that encompass possible issues on the vessel. Some of these protected features under admiralty law are:
.Crew wages
.Ship mortgages (preferential)
.Pollution claims
.Charter party breach cases
.Essential maintenance and supply contract claims
.Maritime tort claims
.Unpaid carrier claims
.Salvage claims
Kindly like us on Facebook