Stakeholders in the Nigerian maritime industry have expressed divergent views over training of Nigerian seafaring cadets outside the country, with some positing that such training is in a way de-marketing the competence of Nigeria's local maritime institutions thereby impeding the global relevance of Nigerian-issued certificates.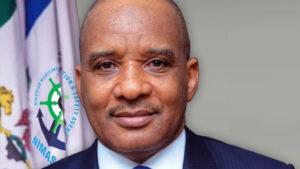 Recall that the Nigerian Maritime Administration and Safety Agency (NIMASA) recently sent the 3rd batch of the 200 successful cadets under the Nigerian Seafarers Development Programme, (NSDP) for overseas training. The cadets were sent to Greece, India, and Philippines for training in nautical sciences, marine engineering, and other maritime-related studies.
While speaking at the flag-off, the Director-General of NIMASA, Dr Bashir Jamoh noted that the agency has successfully trained over 2,000 seafarers and as well-built human capacity and development by training Nigerian youths between the ages of 17 and 22 to acquire theoretical skills and practical, hands-on knowledge in world-renown Maritime Training Institutions across the world in the last 10 years, while noting that the aim of the programme is to make Nigeria the ship manning capital of Africa as the Philippines is the shipping manning capital of the world.
However in a chat with Shipping Position Daily last week, the Chairman Shipping Zonal Council of the Nigeria Merchant Navy Officers and Water Transport Senior Staff Association (NMNOWTSSA), Captain Saliu Adetayo lamented that Certificates of Competency (CoC) from Nigerian maritime institutions are not globally recognized and matters are made worse by the Government by sending Cadets outside the country for training thereby creating impressions that Nigerian institutions are not well-equipped or competent enough for international recognition.
In his words: "I feel disappointed every time I hear that Cadets are sent out of the country for training in order to get internationally-recognized certificates at the detriment of our own maritime institutions in Nigeria. Going for the IMO seat is not the issue, but making sure Certificates from our institutions are globally recognized".
Saliu however charged the Federal government to rather equip Nigerian maritime institutions to meet international standards, so that other countries in the West African region can also send their cadets for training in our schools.
"Instead of spending huge amount of money to send these cadets out of the country, the Federal government should rather invest and equip our maritime institutions so that other countries within the West African Sub-region can also come and train in our schools" Saliu concluded.
However, a Master Mariner, Captain Ishola Adewale told Shipping Position Daily that foreign training for Nigerian Cadets have not changed anything in the Nigerian seafarer training system, even as he expressed belief that there are reasons the Minister of Transportation, Hon Rotimi Amaechi approved and authorized NIMASA to send Nigerian Cadets to other countries for training.
"It has not changed anything. People go to different institutions for their training as long as the country they are going to are on the White List. That is, they are recognized worldwide. So it has nothing to do with our own training here or in another country. If the Minister did not approve it, they will not go. The Minister also mentioned that they should also try and train some of them in our institution here.
"I believe he has a reason he asked NIMASA to go and train some of the cadets outside the country, when he has institutions that are well-equipped here, especially MAN Oron and some other private institutions. He said they should try and train people locally too. Maritime Academy of Nigeria, Oron is of the highest standard" Ishola sumittted.
On his part, another stakeholder; Engineer Matthew Alalade noted that sending cadets out of the country is a good initiative but should not be a priority. He stressed that the Federal Government should fund and equip its maritime institutions and even the private ones, so that other countries can patronize and send their cadets for training rather than sending Nigerian cadets abroad.
He said: "You are patronizing people outside, but your own institutions are not being patronized by other countries as you are patronizing them. Our institutions should also be patronized by all these countries flooding our waters. I am not saying we should not patronize them but not on a larger strength. They should invest and promote our institutions here.
Speaking on some of the factors behind this initiative, Engr. Alalade noted that the unavailability and lack of Nigerian-owned ships has contributed to the impediments in making Nigeria a hub in the West African Sub-region. He also noted that the courses and training offered by Nigerian maritime institutions are limited to the global standards which have made the government to constantly send their cadets outside the country for further training for global competency.
In his words: "We don't have ships now to trade as a hub of Africa and West Africa. So where do we train them? Most of the cargoes are being taken by foreign vessels. So what is the government doing about that? If they want to train people, they should be commensurate with the demand and supply. I don't think they are taking into cognizance demand and supply of labour.
"When you are training them, you train them halfway. They will not complete the training up to the apex level like First Class Marine Engineering and Master Mariner. Did they train them up to that level? They just left them halfway after being cadets. For years Nigeria has been celebrating Cadets. What is the meaning of that? Those who are yet to be Officers are not officers and you are celebrating them. What about the Chief officers and Engineers, Masters level? There is a lot of way to go. They should think the way we mariners are thinking" Alalade said.
Kindly like us on Facebook