The Nigerian Ports Authority (NPA) on Monday, said 17 ships had arrived Lagos Ports and were discharging petrol, bulk wheat, frozen fish, bulk salt, butane gas, bulk sugar and ethanol.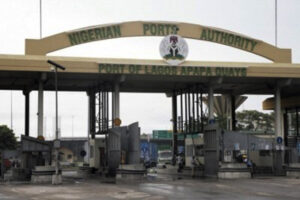 It said 25 other ships were also expected to arrive the ports between May 9 and May 26.
It said the ships were conveying bulk wheat, general cargo, frozen fish, bulk sugar, butane gas, bulk gypsum, bulk salt, jet fuel, automobile gasoline, ethanol, petrol, bulk fertiliser and containers.
It also said six other ships had arrived the ports and were waiting to berth with base oil, bulk sugar and petrol.
Kindly like us on Facebook