The Minister of Transportation, Rotimi Amaechi, has charged Nigeria cadets under the Nigerian Seafarers Development Programme, (NSDP) to be of good conduct, as the Nigerian Maritime Administration and Safety Agency (NIMASA) last weekend sent the 3rd batch of cadets under the programme for overseas training.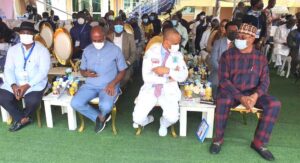 The 200 successful cadets were sent to Greece, India and Philippines for training in nautical, marine engineering and other maritime-related studies.
Speaking at the flag-off of the third phase of the NSDP in Lagos on Friday, the Minister of Transportation Rotimi Amaechi, urged the cadets to be good ambassadors of the country, stating that there are millions of youths who desire to have the same opportunities, but don't have.
The Minister disclosed that out of 150 cadets sent to China for training under the programme, four were sent back home for drug-related offences, he urged the new cadets to be serious with their studies and make the country and NIMASA proud.
"I pray you get jobs, because we are still battling with a lot of people who have graduated that have not been given seatime, I hope you have been given seatime, if you are not, I hope NIMASA DG will arrange for seatime for those who don't have seatime.
Recalling how four cadets were deported from China, the Minister said: "For those who are leaving, I will give you an experience which I have. We sent about 150 cadets to China, about four of them are back to the country; they were caught with drugs, please don't embarrass the country because you are now ambassador of the country not NIMASA, because NIMASA is just a small entity in Nigeria. If you go there and disgrace us, my children will wait for you, you have to be of utmost behavior, you have to study and pass your exams. Imagine the millions of youths who want this same opportunity that you have, it means that you must show NIMASA that they did not make any mistake in choosing you".
"Some of you, after you've been trained will be hired overseas, so I wish you luck, the ones that will not be hired; please come back to the country, the country is changing and you will see the changes as it comes, I wish all of you God blessings" he said.
Speaking earlier, the Director General of NIMASA, Dr. Bashir Jamoh noted that the agency has successfully trained over 2,000 seafarers and as well, built human capacity and development by training Nigerian youths between the ages of 17 and 22 to acquire theoretical skills and practical, hands-on knowledge in world-renown Maritime Training Institutions across the world in the last 10 years, while noting that the aim of the programme is to make Nigeria the ship manning capital of Africa as Philippines is the shipping manning capital of the world.
"We began the fabled journey of a thousand miles. The journey to self-discovery and pursuit of excellence in seafaring has begun for 200 Nigerian youths about to set sail as a group and as distinct individuals for the fulfillment of dreams of academic and professional excellence.
"This journey, however, did not start today for NIMASA. It started 10 years ago when we embarked on a first of its kind, high-risk venture to launch out and invest heavily in building human capacity and development by training Nigerian youths between the ages of 17 and 22 to acquire theoretical skills and practical, hands-on knowledge in world-renowned Maritime Training Institutions across the world.
"The Nigerian Seafarers Development Programme (NSDP), the Special Purpose Vehicle, through which the Agency has used to actualize this lofty dream and create channels to bridge knowledge deficits especially in qualified, competent and certified seafarers, was conceived as our answer to the dwindling number of competent seafarers, especially the officers' cadre in Nigeria maritime labour pool.
"A cursory look at our Maritime Education and Training curriculum revealed our worst fears. Sea-time training which is a mandatory and important phase of learning as it provides direct knowledge transfer to cadets onboard ocean-going vessels which is strictly regulated through IMO-STCW 2010 Manila Convention (as amended) was hardly available to " Nigerian cadets which gave rise to a long list of Nigerian seafarers known for their soundness in theory, but bereft of practical knowledge and experience, this led inexorably to, in some cases outright rejection of Nigerian tickets for fear that standards are compromised.
"It was a Catch-22 situation for the Agency as the National Assembly had signed the Cabotage Act, 2003 into law which was ambitious at the time because one of the pillars of the Law, remains that; all companies that do business in our coastal waters MUST have Nigerian seafarers onboard their vessels as crew except where Nigerians are not qualified to man such vessels. To our chagrin, we discovered that we did not have the numbers and to our shame, we began issuing manning waivers. Building a pool from scratch was inevitable, and so the journey to train world-class seafarers began.
"We took a sectoral approach to solve this problem by putting forward the training of seafarers first. We have since inception, trained 2,041 cadets across different countries of the world like the United Kingdom, India, Egypt, Romania and the Philippines in Marine Engineering and Nautical Sciences, chosen deliberately to gain strategic knowledge from their vast experience in seafaring and Maritime Education and Training. As of today, 656 Cadets have qualified as officers in the fields of Marine Engineering and Nautical Sciences with a Certificate of Competency (CoC) from the UK, Egypt and the Philippines. The Agency is preparing 360 cadets for CoC examinations while 93 are already enrolled for CoC. 446 are currently undergoing sea-time experience onboard vessels scattered all over the world. Through the NSDP scheme, let me quickly add that we have trained 31 Naval architects, which will form the basis for our shipbuilding needs" he said.
He noted that besides statistics, the NSDP scheme can identify faces and names of beneficiaries who took the opportunity to represent the country, with both hands. While also stating that all batches of cadets who have being sent out have not disappointed, "in fact, they have won academic laurels from different institutions across the world; they are competing for jobs in the global seafarers' market and in our maritime domain; more Nigerians officers are working onboard in good numbers like never before"
Also speaking, a former Director General of NIMASA, Dr. Ade Dosunmu, commended the commitment and zeal with which NIMASA has been implementing the programme since it was initiated l0 years ago. He said despite economic challenges. So far, it's been so good but however said there is need to scale up the numbers, because of the compelling necessity to grow indigenous capacity to man the National fleet
He noted that, as the Director General of NIMASA when the NSDP was conceived, the main objectives were to encourage young Nigerians to get into seafaring as a profession, to discourage youth restiveness, create global employment opportunities for our youths, and address the death of indigenous Capacity to man our National fleet. He also added that Nigeria stands a good chance of being one of the major suppliers of seafarers in the continent and globally in the future.
He thanked the Minister of Transportation; Mr Rotimi Amaechi for providing purposeful and quality leadership in driving the vision of President Muhammadu Buhari for the transportation sector.
Kindly like us on Facebook