There are strong indications that despite the launch of the Deep Blue Assets by the Nigerian Maritime Administration and Safety Agency (NIMASA) to fight piracy on Nigerian territorial waters, several Navies and private security outfits from other countries have dominated Nigerian waters.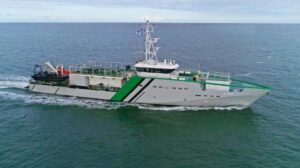 Investigations by our correspondent have revealed that some multinationals shipping lines have engaged their national Navies and also private security outfits onboard their vessels, particularly to protect their interest in shipping and the transportation of cargoes on Nigerian waters.
Recall that the United Kingdom recently deployed some of the British Royal Navy warship, HMS Trent to collaborate and train some Nigerian Navy officers in the fight against criminalities like piracy, drugs smuggling.
The Royal Navy which arrived Lagos last week is on a three-month deployment to the Gulf of Guinea.
Similarly, the Danish frigate; Esbern Snare is en route Nigeria and the Gulf of Guinea ostensibly to join the international fight against piracy. It is expected to stay for about six months.
You will recall that three piracy attacks were recorded last week, a development which has led stakeholders to insinuating that the presence of the Deep Blue Assets was not being felt adequately.
In an exclusive chat with a former Director of NIMASA and Current Secretary-General of the Maritime Security Providers Association of Nigeria (MASPAN), Captain Waredi Enuisuoh he noted that the presence of private maritime security providers is a major contributor factor to the decline in piracy as reported by the International Maritime Bureau (IMB) recently.
He also stated that currently, there are foreign Navies such as: The British, American, Danish, Italian, French, Dutch, in Nigerian waters in order to protect the interests of their nations.
In his words: "Many merchant ships now carry armed security as their ships sail far out to sea. They don't follow the coastlines anymore. Merchant ships are now equipped with a lot of anti-boarding devices from water cannons to eardrum destructive sound generators. These merchant ships now rendezvous with ships at sea, then escorted in and out of the ports up to 180 nautical miles out.
"The presence of private maritime security providers is a major factor, there is also the presence of foreign Navies in our waters like the British, American, Danish, Italian, French, Dutch, and others are now in our waters to protect their interests" Waredi noted.
This is even as Waredi noted that the European Union has established a Maritime Security Surveillance Center being run by highly -trained personnel keeping watch 24/7. According to him "the Center is responsible for giving response advice and probably give out information on the best possible route for ships to follow.
The Ex-NIMASA official lamented that Nigeria has not demonstrated its capability and ability in combating piracy as the Deep Blue Assets have not been tested in anger. He however advised that Nigerians should not lose her guard, but continue to keep on observing anti-piracy measures and be vigilant.
"We haven't demonstrated capacity and ability. We have only showcased what we have and what we have hasn't been tested in anger. If you want to test the system you have, stop partnering with foreign navies and tell them to leave your waters. Then only, we will know if we are self-sufficient, effective, and independent. By my intellectual assessment and the maritime intelligence within my space, we are not"
"The Nigerian authorities are doing all they can, within the limits of their current capacity, you would recall that even with the recent hijacking of boats inside inland waters, we haven't responded to any. My advice to shipping is: don't lose guard, but keep the vigilance and anti-measure you are taking, ongoing" Waredi concluded.
Also speaking, a former National President of the Nigeria Merchant Navy and Water Transport Senior Staff Association, (NMNWTSSA), Captain Thomas Kemewerigha noted that the Nigerian Navy or the Deep Blue assets are not the one protecting the Nigerian waters from piracy. He also stated that multinationals finance private security vessels in order to protect their activities.
"The Nigerian Navy is not the one protecting our waters. All multinationals go the extra mile by getting private security vessels; paid by them and not the government. They spend their money to protect their activities in the territorial waters. Virtually all nationals operating in the territorial waters of Nigeria are operating at a very high-security expense. They hire security boats to carry their Crew offshore and bring them back with security men on board and not Nigeria Navy ships".
On his part, Dr. Segun Musa, a freight forwarder noted that despite the efforts of the Deep Blue Assets, freight forwarder are still facing the pain of paying high war risk surcharged placed on goods. According to him, he believes the Deep blue project is a failure and a waste of national resources.
"We are still trying to endure the high war risk surcharge still placed on freight due to these piracy activities on our waters. As we speak today, the Deep Blue assets is a failure and a waste of national resources. My appeal is that the right thing need to be done" Musa lamented.
Kindly like us on Facebook