Four commands under the Zone 'A' of the Nigeria Customs Service (NCS) has jointly collected about N1.1 trillion from January to August.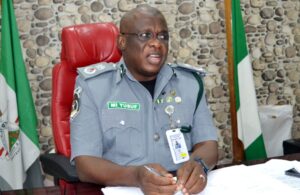 The commands are: Apapa Command, Tin Can Island Command, Port Terminal Multi services Limited (PTML) and the Oyo/Osun commands.
The revenue figures for the four commands put together is N1.1trillion. This is even as Shipping Position Daily confirmed that the Senate had approved a total of N1.678 trillion revenue target for the Nigeria Customs Service for the 2021 fiscal year.
The N1.1Trillion collected by the four commands represents about 70 per cent of the total revenue earmarked for the Service.
Further details revealed that, the Apapa command that has the highest revenue among the commands collected the total sum of N526.9 billion between January –August 2021.
The Comptroller, Malanta Yusuf, disclosed that the remarkable feat is the first of its kind in the history of flagship command of the service.
Yusuf also noted that the command intercepted 56 containers of various items ranging from tramadol, codeine syrup, used clothing, used tyres, tomato paste, unregistered pharmaceuticals, unprocessed wood and other sundry items were seized between the months of January and August
He added that notable among the seized items was a 40ft container suspected to be laden with sophisticated factory fitted concealment of illicit drugs in marble polishing machinery.
Yusuf said that the container which arrived on a vessel CMA CGM LAPIS with bill of laden no. BRT0220100 consigned to Home Page Global Resources Ltd., of Oyinkola Close, Isolo, Lagos (TIN no. 14899445-0001), was said to be from Lebanon and declared as marble polishing machine.
While second revenue earner; the Tin Can Island command came close with N320.9billion within the same period.
The Controller of the Command, Comptroller Musa MBA said that the command had a revenue increase of 28.63% compared to what it collected in the previous year. The command had in 2020 collected N248.8bn.
On its part, the PTML command which is located at Tin Can Port said between January and August, it collected N145 billion.
The Controller of the Command, Comptroller Festus Okun said the command collected about N104. 335billion within the first half of the year. Also, in the first two months of the second half of the year, the command also collected the sum of N41, 367,656,411 only. Hence for the first eight months of the year, the command has collected N145, 702,850,764, representing with an improvement of 45bilion over the same period in 2020.
Meanwhile, the Oyo/ Osun Command said it collected N23 billion from January to August.
The Customs Area Controller in charge of the Command; Comptroller Adamu Abdulkadir during a working visit of the ACG Zone A to the command informed that the command collected N10 billion in June, the highest in the command,
He informed that 169 seizures and 13 suspects were made in the year under review.
Kindly like us on Facebook