Following the recent warning from the management of Nigeria Customs Service (NCS) at the Apapa port to some bonded terminal operators which were said to be underdeveloped and operating below standards, checks by Shipping Position Daily have confirmed that these terminal operators are yet to fully comply with the laid-down standards given to them by the NCS.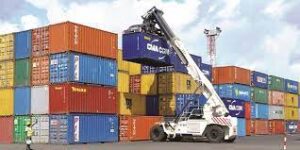 Shipping Position Daily recalls that the 100 % Compliance Team of the National Association of Government Approved Freight Forwarders (NAGAFF) under the watch of National Coordinator, Alhaji Ibrahim Tanko had earlier drawn the attention of the Customs Area Controller Apapa and petitioned against the non-compliance attitude of some bonded terminals at Amuwo Odofin Industrial Layout and Okota respectively.
Specifically, it alleged that "at Unity bonded terminal, there is no forklift to bring out palletized goods for examination, and this has kept us down for weeks while the demurrage continues to rise at the terminal and shipping company. The same scenario goes to Sifax 2 bonded terminal, Okota where you get a flooded, marshy, and smelly ground floor".
Our reporter who visited the affected bonded terminals gathered that some of the terminals have partially-complied with the directives, even as some still lack equipment like the cranes and also lack proper infrastructure.
During a visit to Unity and Denca bonded terminals at Amuwo Odofin Industrial Layout by one of our correspondent last week, he observed that although there were two forklifts, the terminal has no crane, even as the roads and environment look very unkempt and deplorable.
Although the surveillance visit was carried out on a sunny day, the physical infrastructural state of the terminals shows that there is a high tendency of being flooded on a rainy day. There was no workable Customs Office in sight. However, the APM Terminals and other terminals visited remained well-equipped and structured for the easy flow and transportation of cargoes.
The Customs Area Controller, Apapa Command, Comptroller Yusuf Mallanta had told Shipping Position Daily in a recent exclusive interview that he was aware of the deplorable state of these bonded terminals., He said the command had issued a warning to them to ensure that they equip themselves within the space of two weeks.
In his words, "I (Customs) gave the terminal operators about two weeks to try and equip themselves or else we will stop cargo from going to that place. We will not allow discharge or transfer of cargo to that particular terminal that does not have enough equipment or a very good office facility for Customs officers to perform their duties diligently".
Kindly like us on Facebook