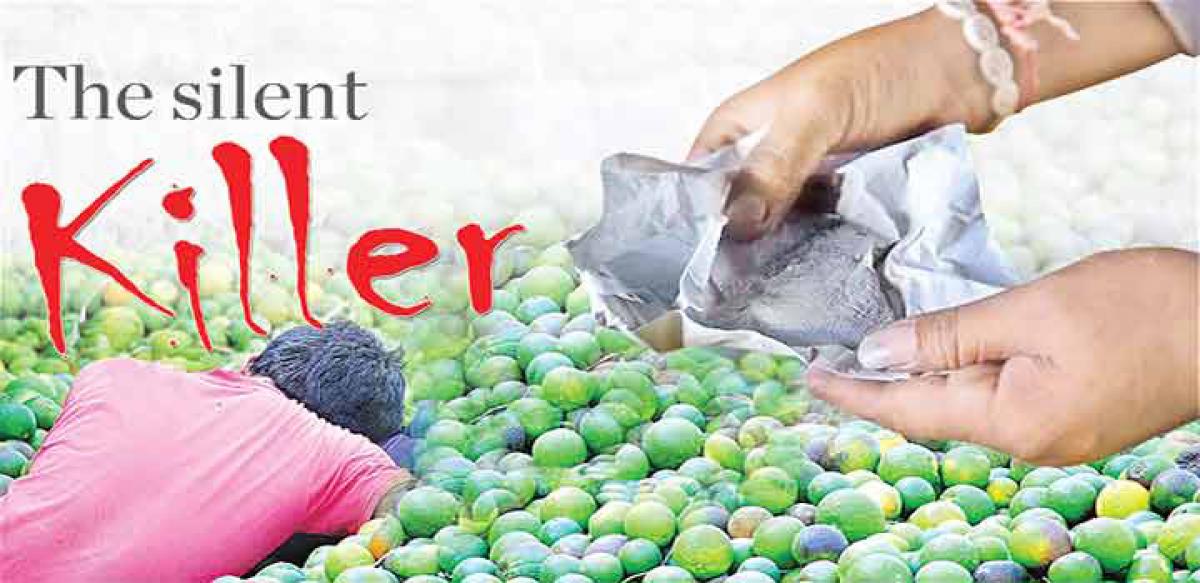 The National Agency for Food and Drug Administration and Control (NAFDAC) recently urged Nigerians not to consume fruits ripened by calcium carbide to avoid health complications.
The Director General of NAFDAC, Prof. Mojisola Adeyeye, gave the warning in her keynote address during the South-South Zone media sensitisation workshop on the dangers of drug hawking and ripening of fruits with calcium carbide in Uyo.
Adeyeye, who was represented by Dr Leonard Omokpariola, Director, Chemical Evaluation & Research, said that consuming such artificially ripened fruits could result in sleeping disorders, mouth ulcers, skin rashes, kidney problems and cancer.
She said that calcium carbide is alkaline in nature and erodes the mucosal tissue in the abdominal region and disrupts intestinal functions.
The DG said that NAFDAC has commenced campaigns in the nooks and crannies of the country to eradicate the menace of using calcium carbide to ripen fruits and hawking of drugs.
"Consumption of fruits containing these impurities may cause cancer, heart, kidney and liver failure.
"They may also cause frequent thirst, irritation in mouth and nose, weakness, permanent skin damage, difficulty in swallowing, vomiting, skin ulcer and so on.
"Higher exposure may cause undesired fluid build-up in lungs (pulmonary oedema).
"Acetylene produced by Calcium Carbide affects the neurological system and reduces oxygen supply to the brain and further induces prolonged hypoxia.
"The impurities are hazardous to pregnant women and children and may lead to headache, dizziness, mood disturbances, mental confusion, memory loss, cerebral oedema (swelling in the brain caused by excessive fluids), sleepiness, seizure," Adeyeye said.
Adeyeye also urged Nigerians not to patronise drugs by hawkers.
The director general added that the menace of drug hawking posed a serious challenge to the healthcare delivery system in the country, stressing that NAFDAC has resolved to totally eradicate the illicit trade.
She said that drug hawkers knowingly or unknowingly were merchants of death, who exposed essential and life-saving medicines to the vagaries of inclement weather.
"Drug hawkers are also the major distributors and suppliers of narcotic medicines to criminal networks, including armed bandits, insurgents, kidnappers and armed robbers.
"Drug Hawkers constitute a serious threat to our national security," Adeyeye said.
Earlier in his opening remarks, the NAFDAC Director of Public Affairs, Dr Abubakar Jimoh, said Nigeria was undaunted with so many fake drugs that must be eliminated to serve the health of Nigerians.
Jimoh said the sensitisation workshop was to partner with journalists and stakeholders to educate the public on the dangers of drug hawking and ripening of fruits with calcium carbide.
He assured Nigerians that the menace of drug hawking must be exterminated from society to ensure the health of Nigerians.
———–How To Spot Fresh Versus Carbide-Ripened Fruit———————
·         The Dangers of Carbide-Ripened Fruits
Artificial ripening with carbide, a hazardous chemical compound containing calcium carbide, is a widespread practice in India. It is employed to accelerate the ripening process and increase the shelf life of fruits. However, consuming such fruits can have adverse effects on human health. Carbide contains traces of arsenic and phosphorus, which can be harmful to the body, leading to gastrointestinal issues, skin allergies, and long-term health problems.
·         Importance of Fresh and Naturally Ripened Fruits
Fresh and naturally ripened fruits offer a multitude of benefits. They are abundant in vital nutrients, vitamins, minerals, and dietary fibre, delivering a significant boost to your overall health and well-being. Opting for fresh fruits ensures that you are obtaining the maximum nutritional value from your dietary choices. Naturally ripened fruits also excel in taste, aroma, and texture, providing a delightful sensory experience.
Their natural ripening process allows the fruit to develop its full potential, resulting in a vibrant and enticing flavour profile. From the succulent sweetness of a perfectly ripened mango to the crisp juiciness of a freshly picked apple, the taste of naturally ripened fruits is unparalleled.
However, by familiarising yourself with the techniques outlined in this guide and considering factors like packaging, storage conditions, and sourcing from farmer's markets or local farms, you can confidently identify and choose fresh, naturally ripened fruits.
·         How To Spot Fresh Versus Carbide-Ripened Fruit
In a country where fruits are an integral part of the daily diet, it's crucial to be able to identify and choose fresh, naturally ripened fruits over those that have undergone artificial ripening with carbide.
This article aims to provide readers with essential knowledge and key strategies for spotting the difference between fresh and carbide-ripened fruits. By understanding these techniques, you can make healthier choices and ensure the well-being of yourself and your loved ones.
——-Visual Inspection Techniques
a. Skin Texture: Fresh fruits have smooth and unblemished skin, whereas carbide-ripened fruits may have rough or uneven skin, indicating forced ripening.
b. Colour and Shine: Fresh fruits exhibit vibrant colours and a natural sheen, whereas artificially ripened fruits might have an unnatural shine or an uneven colour distribution.
c. Spots and Bruises: Fresh fruits are less likely to have significant spots, bruises, or discolouration, while carbide-ripened fruits may display these signs due to improper handling or accelerated ripening.
——–Sensory Examination Methods
a. Aroma: Fresh fruits have a pleasant and characteristic aroma that reflects their ripeness. Carbide-ripened fruits might lack this aroma or have an unusual odour.
b. Firmness: Gently press the fruit to check its firmness. Fresh fruits should have a slight give, while carbide-ripened fruits may be excessively soft or mushy.
c. Taste and Flavour: Consuming a small piece of the fruit allows you to assess its taste. Fresh fruits generally have a balanced and natural flavour, while carbide-ripened fruits may taste overly sweet or have an artificial aftertaste.
·         Tips for Choosing Fresh Fruits
a. Buy Seasonal Fruits: Seasonal fruits are more likely to be fresh and naturally ripened, as they require minimal artificial intervention.
b. Local and Organic Sources: Purchase fruits from local markets or trusted organic suppliers to ensure better quality and minimise the chances of carbide-ripening.
c. Ask the Vendor: Engage in a conversation with the vendor and enquire about the ripening process. Genuine sellers will provide information and transparency.