The Nigeria Customs Service (NCS) says it will soon begin collection of excise duty on toilet papers, carbonated drinks, tiles and plastics in the country.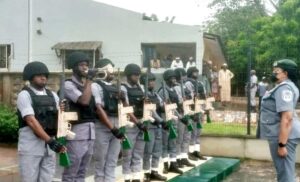 Speaking during her working visit to the Ogun 2 Area Command of the NCS on Monday, the Assistant Comptroller General of Customs ACG Modupe Aremu stated that excise duty collected on tobacco and spirits will soon be extended to cover carbonated drinks, tiles, toilet papers and water while charging the men of the command to come up with the statistics of the companies producing some of the products in the states.
While also urging the Customs Area Comptroller (CAC) Comptroller ST Bala to come up with a strong enforcement unit that will fish out some of the undiscovered factories in the state.
She added that there is need for the command to get enough workforce, informing that with the recent recruitment going on the command will get enough manpower to handle excise in the state when it start.
According to her, "I am very passionate about excise, because I spent two years as ACG excise; so excise is part of me and I am part of excise, we only tax tobacco and spirits and very soon we are bringing carbonated drinks on board, we are bringing articles of plastics, tiles, water and toilet paper.
"So for you to say you have 84 officers in excise here is so low, but I am sure with the upcoming recruitment I am sure some officers will be deployed here because when all these things come on board you are going to have a lot of work to do, because the excise companies here is huge, but I want you to hit the ground running even before government give us the go ahead, you are to do a census of how many factories we have here how many companies are producing carbonated drinks, we need to have the figures.
"So you need to hit the ground running and have the statistics ready; it's not when they say we should start collecting that you start running about. I expect that by now Ogun command would have a comprehensive list of all these companies"
"We know because of COVID-19, there has been a short fall, people are not drinking as much as they used to, more so ethanol is getting high so most of them are struggling to produce.
"We also have a lot of undiscovered factories in Ogun state, so you need to have a very strong enforcement unit to fish them out, you need intelligence because most of these factories cannot be discovered without intelligence.
The ACG further informed that the service will soon begin automation of excise duty with the e-Customs urging all officers to key into the process
"And because there is going to be automation of excise very soon, with e-customs there is going to be end to end automation; all the raw materials from start to finish are going to be automated using block chain technology, so I encourage everybody to key into this, because it's not easy to start counting especially all these drinks and monitoring them from start to finish because some of them produce at nights while the officer must have gone home that is why automation is key", she said.
Speaking earlier the CAC of the Command Compt. ST Bala had informed that the revenue target for the Command in year 2020/2021 quarterly stood at N6.2bn adding that total revenue collection, from Jan-August 2021 is N13.7 Billion.
He noted that the percentage of collection for the period under review was approximately 82%.
He however said the command fell short of her target due to the scarcity/high cost of ethanol and low sales due to reduction in purchase power of Nigerians, occasioned by the prevailing pandemic – Covid19 and social distancing policy.
He further stated that during the period under review, 15 new factories were brought under excise control and they are under different stages of registration:
He said four new factories are currently paying duty with five new factories with license but yet to pay duty due to ICT connectivity delay. He also stated that four new factories are yet to be issued license
Speaking on the challenges of the command, the CAC informed that seized vehicles are deposited indiscriminately in the command premises most of them he said are as old as 30 years stating that many now serves as nests for dangerous reptiles like snakes and monitor lizard.
In her response, the ACG commended the revenue generated by the command but however said there is need for the command to do more.
She also stated that the seized vehicles currently occupying space in the command would soon be auctioned while promising to get in touch with the Comptroller Auction to see to it that the vehicles are auctioned.
"For the seized cars, there is currently ongoing auction in Ikorodu to decongest Ikorodu, most of these cars will soon be uploaded on e-auction, I will speak to the comptroller on e-auction who will see to the vehicles here.
Kindly like us on Facebook