The Federal Government on Monday projected that by the first Quarter of 2024 Nigeria will put an end to the importation of petroleum products into the country.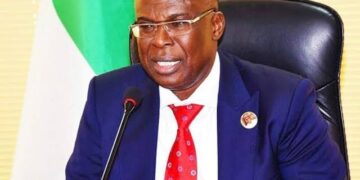 The Minister of state  Petroleum Resources, Timipre Sylva said by the first quarter of 2024 the rehabilitation of the Port-Harcourt refinery would be partly completed while the 650,000 barrel per day (bpd) capacity Dangote Refinery would also be on stream.
Sylva stated this at the resumption of the "PMB Administration Scorecard Series (2015-2023)" organised by the Ministry of Information and Culture.
The scorecard series inaugurated Oct. 18, 2022, and has featured 16 Minister's was meant to showcase the achievements of the Buhari administration.
Presenting the scorecard of his ministry, Sylva specifically said that the 60,000 bpd capacity refinery within the Port-Harcourt Refinery complex would be ready for production by Quarter one of 2024.
The Minister added that the Dangote Refinery, the largest single-train refinery in the world with investment of over 25 billion US dollars would also be on stream before the end of 2023 in addition to several modular refineries projects in the country.
He therefore assured that with the combined production of the Port-Harcourt refinery, Dangote refinery and the modular refineries, Nigeria would end importation of petroleum products into the country.
The minister disclosed that to ensure local  supply of the productions by the private refineries the federal government deliberately took 20 per cent equity stake in the Dangote Refinery.
Equally, the minister said the federal government took 30 per cent equity stake in each of the 5000bpd WalterSmith modular refinery in Ibigwe, Imo state and 10,000 bpd Duport Modular Refinery in Edo state among others.
He said that the government is currently addressing the challenge of access to crude oil being faced by the modular refineries.
The minister also reiterated the position of the federal government that subsidy regine was no longer sustainable.
According to him, the huge fund being spent on subsidy could be deployed to other developmental projects that would impact positively on many Nigerians.
He added that the removal of subsidy would attract more investment into the petroleum sector as many private people would be willing to invest in building refineries.
shippingposition
Kindly like us on Facebook/twitter