Oluyinka Onigbinde
The National Association of Government Approved Freight Forwarders (NAGAFF) has lifted the ban on electioneering campaigns into various chapters at the western zone, which include: Apapa, Tin Can, PTML, KLT MMIA.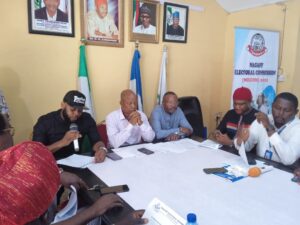 Briefing newsmen yesterday, the Chairman of the NAGAFF Electoral Commission (NECOM) Engr. Chukwunonso Ejikeme, informed that the electoral process and campaign for elective position ihas been lifted for voters and contestants who are interested in contesting for any position in the chapters.
He unveiled the electoral guidelines and timetable for the election. According to the timetable, election into the various chapters are expected to take place in the first week of August 2022, while screening of aspirants and voters will take place in the second week of June 2022.
The NECOM chairman informed that only members with required qualifications in freight forwarding or currently undergoing courses in maritime-related studies will be allowed to contest during the election, while adding that contestants must be a bonafide member of the Council for the Regulations of Freight Forwarding in Nigeria (CRFFN)
He further said that contestants for the chairmanship post must not be below age 30 years and the minimum age for other elective post is 25 years.
He warned that voters and contestants who are yet to pay their registration and annual subscription fees will not be allowed to participate in the election.
He said registration if CRFFN annual subscription fee of 2022 is mandatory for new members for screening to become eligible voter.
He said the ongoing registration at the chapters for the purpose of election will end on the 23rd of June 2022, stating that only members who registered within the registration period will be eligible to be screened for voting.
Kindly like us on Facebook