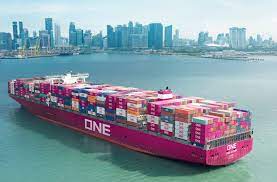 Japan-based Ocean Network One (ONE) has successfully completed the acquisition of three terminal operators: TRAPAC, YUSEN, and ROTTERDAM WORLD GATEWAY. These deals, which were initially announced last year, have now been finalized after securing the necessary regulatory approvals.
In this acquisition, ONE has acquired a 51% stake in both Yusen and Trapac and a 20% stake in Rotterdam World Gateway.
Trapac and Yusen are container terminal operators and vessel stevedores offering container terminal services in Los Angeles and Oakland, California. Combined, these two terminals have a total annual capacity of 4.3 million TEUs. Rotterdam World Gateway is a highly automated terminal located in the port of Rotterdam, boasting an annual capacity of 2.6 million TEUs.
With these new acquisitions, ONE has significantly strengthened its presence in North America and Europe. These strategic moves ensure that ONE will always have access to terminal capacity in critical gateways.
Hiroki Tsujii, Managing Director of ONE's Product & Network Division, has emphasized that ONE will leverage these terminals to help customers manage supply chain disruptions. Container terminals have a unique capacity to mitigate the impact of operational disruptions. Tsujii further added that these new acquisitions will enable ONE to provide faster and more reliable services to their customers