By Subhodeep Ghosh
A hospital ship is designed and constructed to serve as a medical facility similar to hospitals, nursing homes, or other healthcare infrastructure. In other words, a hospital ship replicates a land-based comprehensive medical facility, whose features depend on size, type and requirement.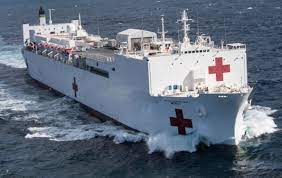 The need for hospital ships dates back centuries, even before the World Wars, when warfare and battle at different locations around the world warranted the construction of these special types of vessels. So, since then, hospital ships were mainly built as military vessels to serve as makeshift healthcare facilities required during times of crisis like wars or international conflicts when a large number of people, both armed forces and civilians, need to be treated as a result of wounds, injuries, and other various health-related problems.
However, sometime back, during the gruelling COVID-19 pandemic that gripped the world, the need for hospital ships again augmented unprecedentedly. During worse times of the pandemic, as hospitals got overwhelmed, many vessels, both dedicated military ones already serving as hospital ships and several passenger and commercial vessels, were temporarily or permanently converted to hospital ships.
In the United States and other European countries like Italy or France, where the virus took a heavy toll, the need for hospital ships escalated significantly. Even after the pandemic, the Russia-Ukraine conflict has again entailed an uptick in hospital ships as several people from both sides, including civilians and military, are badly affected.
Generally, most hospital ships are converted from existing commercial or military vessels, while some are indigenously built. Depending on the requirement, they vary in size and range. Externally, they are primarily white and bear the signatory Red Cross symbol on their paintwork, like ambulances or medical facilities. They take a special red-cross flag in addition to their classification flag.
As most hospital ships are mainly derived from existing commercial or military vessels, they do not have much difference in their structural design. From a design point of view, they do not have any requirements for speed or power as they are in-situ treatment facilities that serve as long-term care centres and do not need to adhere to a specific timeline.
However, in times of crisis, they may require additional speed or power to reach places of demand for the onboarding of patients and medical crew on an urgent basis. While commercial vessels (mostly tankers or bulk carriers) are low-speed, those made out of older passenger or military vessels have higher speeds, as we know.
shippingposition
Kindly like us on Facebook/twitter