Oluyinka Onigbinde
The Nigerian Maritime Administration and Safety Agency (NIMASA) has debunked claims that the two ship owners' associations must come together as criteria for disbursement of the Cabotage Vessel Financing Funds (CVFF).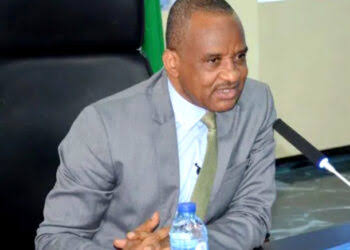 Reacting to recent reports that the agency had requested a merger between the two shipowners associations before the CVFF can be disbursed, the Director General NIMASA, Dr. Bashir Jamoh at a recent event in Lagos, refuted the reports, while stating that the agency had at no point stated that the merger of the two associations is a criterion for disbursement of the CVFF fund.
Jamoh explained that he only advised the leadership of NISA who recently paid a courtesy visit to him, to consider coming together under one umbrella just like every other association in the country, citing an example of the Manufacturers Association of Nigeria (MAN).
He said nobody can force the two associations to a marriage of convenience as there are no guidelines that state SOAN and NISA must come together.
The DG NIMASA also noted that queries and criticisms about the CVFF and its planned disbursement are hasty, but he disclosed that a public scrutiny of the exercise has already begun.
Jamoh at the event also informed that a revised version of the Cabotage Act has been passed by the House of Representatives and the amended document has been forwarded to the upper legislative chamber, Senate for concurrence.
However, he did not disclose details of the amendment captured by the House of Representatives, but stated that the revised document was recently forwarded to the Senate for subsequent passage, before proceeding for assent from President, Muhammadu Buhari.
Meanwhile, reacting earlier to the report of the merger between SOAN and NISA, the President of SOAN, Dr. Mkgeorge Onyung had dismissed the merger talk between his association and NISA
Onyung, disclosed that the Nigerian Constitution allows freedom of association and SOAN is not ready to continue playing aged-long political gimmicks.
Onyung stressed that the CVFF is a serious issue and the conditions and requirements for its disbursement have been clearly stated.
He further noted that the conditions are not political and should be met by shipowners before disbursement.
In his words: "If NISA wants to merge with SOAN, do they have to meet the DG and get advice from him? Let us focus on the real thing to do. So why did we not merge five years ago? It was politics that made SOAN break out from NISA.
"We cannot continue this political rabbit hole where we leave the substance and talk about chaff. The constitution allows freedom of association.
"The CVFF is a serious issue. It is not something to be discussed in the newspaper. The conditions of the CVFF are there. It is not political. There are requirements and you need to meet them. It is not a matter for argument in the newspaper or on the streets" Onyung stated.
shippingposition
Kindly like us on Facebook/twitter