Health authorities in Brazil are investigating two mysterious deaths aboard the bulker Caravos Harmony, which arrived at the Amazon River port of Macapá on Sunday.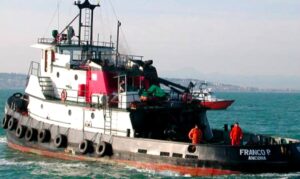 Caravos Harmony left Port Elizabeth, South Africa on February 10 and got under way for Brazil.
On February 21, as the vessel was transiting several hundred nautical miles off the Brazilian port of Recife, the vessel's second and third engineers were found dead in their cabins.
Brazilian news outlet g1 identified the deceased as Ukrainian nationals Oleksiy Stavytskyy and Denys Gutsu.
Caravos Harmony passed Recife, Natal and Fortaleza, and she maintained course and speed for the next five days, according to AIS data provided by Pole Star. She arrived at Macapá at the mouth of the Amazon on February 26.
When the ship arrived, Brazil's National Health Surveillance Agency (Anvisa) and the state public health agency (SVS) sent investigators to the ship to determine the cause of the casualties on board. The other crewmembers have tested negative for COVID-19, according to g1, and SVS reported that the crew had no symptoms of other diseases. Further lab testing is scheduled.
Caravos Harmony was last in the news in 2019, when she struck the anchored bulker Pan Acacia in the harbor at Vancouver, British Columbia. Both ships sustained damage, including a significant hull penetration in one of Pan Acacia's cargo holds. Canada's Transportation Safety Board faulted Caravos Harmony for a failure of bridge resource management between the pilot and the crew, as well as a faulty rudder angle indicator and compass.
Kindly like us on Facebook