Oluyinka Onigbinde
The crisis rocking the Association of Nigerian Licensed Customs Agents (ANLCA) seems to be coming to an end; this is as the two factional sides that have been at loggerheads for over four years and are now making efforts at reconciling their differences.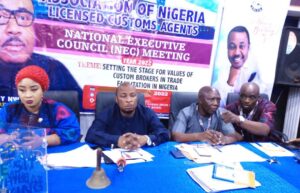 Shipping Position Daily observed that the recent National Executive Council (NEC) meeting, which was held at the association's national secretariat in Lagos last week and presided over by the Acting President, Dr Kayode Farinto, had in attendance gladiators from both camps.
The development comes as members of the association have also called for a retreat to reunite the association and resolve most of the challenges.
Dr Farinto, while speaking on way out of the crisis, said the association's NECOM is ready to negotiate with the aggrieved members to make peace return to the association.
He however said that ANLCA would not condone the use of touts and miscreants invading its national secretariat.
Lamenting the damage the crisis has caused, Farinto informed that the aggrieved members may have expended not less than N80million on legal fees. He noted that these are monies that ought to be ploughed into the association to fight its common course
He said: "Respect is a two-way thing, I am extending the hand of fellowship to them (aggrieved members), we have opened a channel, we are ready to negotiate, we are ready to listen to anybody that feels aggrieved, and we would give and take.
"However, the sanctity of our constitution is important, we need to sit together and charge a way forward".
Referring to the presence of some of the aggrieved members at the meeting, he said: "The fact that they are present in this NEC meeting should tell them that we want peace.
"In order to avoid crisis, this was why we said every position in ANLCA should now be for a single term, so that it can go round. I keep saying that whether you like Tony Iju or not, this is his government.
"We are open for reconciliation and we would continue to negotiate" he said
Speaking earlier in his suggestions on the way forward, Barr Michael Ovien, one of the gladiators from the factional BoT camp, urged the Acting President to forget all that must have happened in the past and embrace dialogue.
"Quarrel and grievances are not new to any one of us, but the way we can go is for us to embrace peace, the East, West and North are here for this NEC meeting, so we can all proffer peace for one ANLCA.
"Part of your agenda should be that, you should dine with those that you feel are very difficult for you to dine with, take the bull by the horns and tell yourself that enough is enough.
Let us hold this and let it form our agenda, let us broker this peace.
"There should be a retreat that would hold us all together. We need brains that can tackle customs and let people know that we are learned people that know the job, please forgive whatever might have happened before, put it aside, you have a big thing in your hand to do" he advised.
Kindly like us on Facebook