Joshua Yousouph
The Council of Maritime Transport Unions and Associations (COMTUA) said its members will no longer use the Nigerian Ports Authority (NPA) electronic call-up system, known as Eto, by the end of February.
The President of COMTUA, Mr Yinka Aroyewun, announced this when he paid a courtesy visit to Mr Emmanuel Jime, Executive Secretary, Nigerian Shippers' Council (NSC), in Lagos on Monday.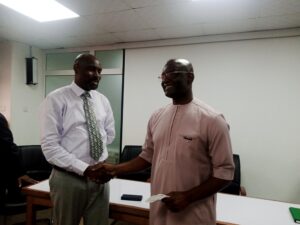 Aroyewun alleged that the truck call up system was not working and had not reduced traffic on Apapa axis of Lagos State.
"The most important thing is that we should not obstruct traffic. The members of COMTUA under my leadership have decided that we are no longer going to patronise Eto by the end of February.
"We already have our own way of organising ourselves, we were doing it before Eto," he said.
Aroyewun said that for trucks going to the ports, the council would confirm their businesses and apply to the port manager who would approve their coming.
The COMTUA president said that Eto should have a queuing system that would allow truck drivers to know the time to leave parks for the port.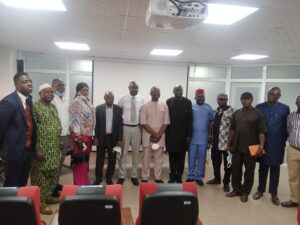 "That is not the case.
"Before the introduction of Eto, we paid N2,000 but, with the introduction of Eto, it is N4,000 and another N4,000 per day.
"All these things add to our cost of doing business. Cost of diesel is in the increase, touting is everywhere as against what Eto promised," he said.
He said that the electronic call-up system was "killing" members of COMTUA.
"We have not less than 180,000 trucks of our members. if we are chased out of business, it is a major problem, so there is need for the council to come to our aid.
"The business environment is entirely unfriendly. From Ijora Sifax to Apapa Port, there are 11 check points; from Fatgbems to Tin Can, 13 checkpoints; all these checkpoints are manned by police and others outside their jurisdiction.
"There is none of these checkpoints you pass even with electronic call-up document that you will not pay. Drivers are being beaten, maimed just because we do not want to pay," he alleged.
He also urged the Shippers' Council to look into the management of empty containers.
"We have written to NPA through our lawyer, we are done with Eto and want to recover all monies collected from us through Eto," he said.
Responding, Jime said that congestion of port access road was a cause for concern to everyone because of its huge negative impact on economic activities.
According to him, everyone has a duty to reduce the congestion as much as possible.
"I offer you words of commendation and express my appreciation for choosing the path of law and due process in order to articulate issues that border on your activities.
"We have deep interest in making sure that there is clear protection for all stakeholders according to law and processes that are in place.
"We acknowledge the letter sent to our office, which we received on Jan. 20, where you have stated a couple of issues and you have requested the council to intermediate and offer suggestions and solutions," Jime said.
Also speaking, the NSC Director of Consumer Affairs, Chief Cajetan Agu recalled NSC's past working relationship with COMTUA. He stressed the need to ensure that all members of COMTUA are registered with the Council in addressing their concerns and challenges.
"We have studied your complaints and we discovered that there are major key players involved. I have spoken to the port manager of Tin Can Island port and he promised he will offer solutions to the complaints that you raised. We also agreed that there will be a meeting of all stakeholders involved, so that we brainstorm together and holistically attend to some of the issues raised. We are equally going to look at the processes and procedures for the call-up and carry out independent investigations. It is our responsibility to find solutions to these problems. I want to use this opportunity to remind your members to register with the Nigerian Shippers Council so we can know you better and be able to adequately tackle your challenges. Also, appeal to your members to continue to be law-abiding" Agu noted.
Agu stressed the need to tap into the potentials of the Container Deposit Insurance Scheme and constantly work with the NSC by giving feedback. He tasked COMTUA to come up with relevant evidence as they look into the loss of their jobs to foreigners and other issues raised.
"There is a little bit of sanity on the port access road but it is not yet uhuru," Agu said.
Kindly like us on Facebook