The West African Health Organisation (WAHO), says the year 2021 regional health situation featured COVID-19 across all Economic Community of West Africa States (ECOWAS), with 40 incidences of epidemic outbreaks.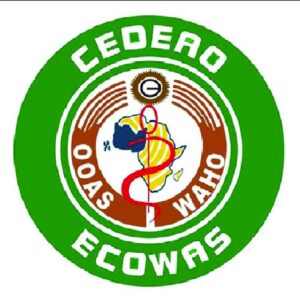 Prof. Stanley Okolo, Director General, WAHO, said this in an interview with in Accra, Ghana on the sidelines of a High-level Meeting between vaccines manufacturers and WAHO.
The meeting was organised by WAHO, in collaboration with the Africa Centre for Disease Control and Prevention, to accelerate local manufacturing of quality vaccines and medicines in the West African region.
Okolo listed some of the 40 incidences to include Cholera, Dengue Fever, Ebola Fever, Lassa Fever, Marburg Fever, Measles, Meningitis, Monkey pox, Poliomyelitis (cVDPV2), Rift Valley Fever and Yellow Fever, as well as other health challenges causing morbidity and mortality.
He disclosed that with a total approved budget of UA43 million (60 million dollars) for 2021, WAHO carried out initiatives aimed at tackling the COVID-19 pandemic, as well as other epidemics.
Okolo said the organisation focused on improving regional health outcomes in various areas, including maternal and child health, prevention and control of communicable and non-communicable diseases, ensuring pharmaceuticals quality standards, establishment of Centres of Excellence, funding of health information, research and capacity building.
He also highlighted some key achievements in the year 2021 as convening of four meetings of the COVID-19 Ministerial Coordinating Committee, out of which practical recommendations and actions were agreed on.
"These recommended actions, endorsed by the ministers of health from the region, include developing the Regional Outbreak Dashboard, with focus on COVID-19, establishing the BIOMARS system to digitise cross-border public health control measures."
Others, he said, were promoting vaccine uptake, in addition to strengthening coordination of the response through the National Public Health Institutes (NPHIs), the Regional Animal Health Centre (RAHC), and others such as the World Health Organisation (WHO), Africa Union (AU), Africa Risk Capacity (ARC), and collaborating ministers.
Okoro stated that the WAHO strategic plan, defined as the WAHO Vision 2030, was developed and adopted by the Assembly of ECOWAS Health Ministers.
"The strategy presents a 10-year road map to guide programmes' delivery and operations of WAHO, in delivering on its mandate as the ECOWAS regional health institution.
"The 22nd Assembly of ECOWAS Health Ministers (AHM), was held in 2021, and a series of resolutions were adopted to advance the regional health agenda.
"The resolutions adopted by the AHM included the Regional Health Scorecard and the statutory documents for the operationalisation of the ECOWAS Regional Medicines Agency," he added.
Okolo also noted that the WAHO COVID-19 response plan was executed across the pillars of Infection Prevention and Control (IPC), risk communication, case management, laboratory capacity, and epidemiology areas.
"Essential medical supplies and equipment, diagnostic kits, ventilators, Personal Protective Equipment (PPE), were distributed to member states; as well as over 3,000 health professionals trained across all domains of the response and harmonised regional curriculum for cross-border strategies and entry points training of trainers.
"Member States were supported to develop and submit their National Deployment and Vaccination Plans (NDVPs), to benefit from vaccines from the COVAX Facility," he explained.
He further said that WAHO Increased Family Planning uptake and strengthened member states' capacity to manage the supply of and access to Family Planning products, particularly geared towards harnessing the demographic dividends of the ECOWAS region.
He said a directive was developed in furtherance of the initiative to promote Sexual and Reproductive Health and Rights (SRHR).
"It is expected that the directive will significantly contribute to the empowerment of girls and women, and the realisation of their rights once adopted by the AHM, the ECOWAS authorities, and implemented by member countries.
"Increased management of neglected tropical diseases (NTD), with over 69,496,532 cases by the Seasonal Malaria Chemoprevention (SMC) and NTDs interventions, one of which was mainly setting up of surgical camps for the management of reversible complications of NTDs trichiasis and hydroceles trichiasis," he said.
Okolo stressed that WAHO's programmes had continued to evolve, ensuring that all its interventions responded to prioritised health needs, and were in alignment with global, regional and sub-regional health priorities, resolutions, treaties and commitments.
"WAHO continued in its strategic role of coordinating the regional COVID-19 pandemic response despite the constraints of not having a fully functional Regional Center for Surveillance and Disease Control (RCSDC), as well as the limited human resource capacities.
"Furthermore, WAHO still centered on sustaining the gains made on the major pillars highlighted in 2016-2020 Strategic Plan," he stressed.
NAN reports that WAHO originated from the merger of the Organisation of Cooperation and Coordination for the Fight against Major Endemic Diseases (OCCGE), and the West African Health Community (WAHC).
It was established by heads of states of the 15 member countries of ECOWAS as the Community Specialised Institution, tasked with tackling health problems within the region.
Over the years, the institution has achieved this in close collaboration and support of member states, as well as financial and technical partners.
Since 2020, WAHO has been in the forefront of the regional COVID-19 response, in addition to providing support towards addressing other significant health issues of member states at risk of neglect, as a result of refocusing and redirection of resources for COVID-19 response.
Kindly like us on Facebook