The EU has announced the relaxing of anti-COVID-19 measures for air travelers, dropping the recommendation to wear masks in airports and on aircraft from May 16.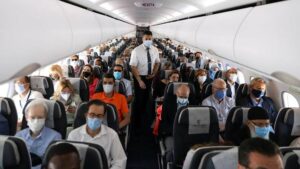 The European Aviation Safety Agency (EASA) and the EU Health Authority ECDC announced this on Wednesday.
EASA chief Patrick Ky, said for passengers and crew members, the move represented a big step towards normalising air travel.
However, the authorities said that wearing a mask remained one of the best methods of preventing transmission of the coronavirus.
The relaxation comes as the effects of the pandemic continue to recede, due in particular to high vaccination rates, herd immunity and the continued lifting of restrictions in a growing number of European states.
Kindly like us on Facebook