Traders and artisans operating around the Tin Can Island port have dared the management of the Nigerian Port Authority (NPA), as they have returned to occupy the business spaces less than two months after the authority evicted them from the port vicinity and even demolished the kiosks erected by some of them.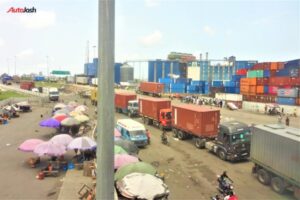 Recall that the NPA, in July and in conjunction with the Lagos State Government and relevant security agencies started full-scale clean-up operations at the two Lagos Ports which led to the demolition and removal of abandoned vehicles, containers, machineries, equipment and illegal structures; like shanties and kiosks in the environs, including all approaches to the Tin Can Island Complex, Lagos Port Complex and Kirikiri Lighter Terminals I and II.
However, visits to the Tin Can Port by our correspondents less than two months after clean up, revealed that the traders and illegal occupants have again taken over the port gate, going about their daily businesses of buying and selling without any form of resistance by NPA security officials at the port gate.
This is even as the traders and occupants who have erected new kiosks vowed to resist any move to evict them after first eviction.
Our correspondent had a one-on-one interaction with one of the artisans, and asked why they returned back to the port gate, the artisans who is who is a shoe maker, stated that he and his fellow illegal occupants have nowhere to go, while lamenting that the 'Abuja park' where they carry out their day to day activities have also been destroyed, this is even as he vowed that they have made up their mind not to leave the port gate again, he said the port gate is where they earn their daily living.
He said: "Oga, we are not leaving here again, this is where we earn our leaving every day, where do they want us to go, the Abuja park where we can stay, they have taken it away from us, so there is no place to go; that's why we have to return here, because this is where we earn our daily bread, we can't leave this place again, except they provide somewhere else for us to do our business, we won't leave this place again".
"If I am not here, how will you get your shoe polished, so we are rendering service even to the customs and the NPA officials who shine their shoes on a daily basis here". he said.
Our reporter also observed that food vendors, herbal concoction sellers among others have also re-erected their kiosks.
Kindly like us on Facebook