The Congress of Registered Freight Forwarding Practitioners Of Nigeria (CREFFPON) has called on the Registrar of the Council for the Regulation of Freight Forwarding in Nigeria (CRFFN); Mr Sam Nwakohu to commence preparations for the conduct of elections into the governing council.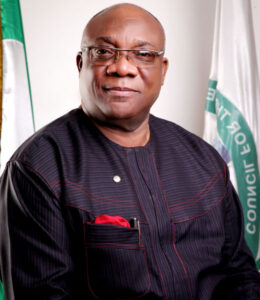 Reacting to an exclusive story published by Shipping Position Daily on Monday, CREFFPON in a statement signed by Pastor Edwin Chukwudire Obi, urged the CRFFN to consult with the Minister of Transportation; Mr Rotimi Amaechi to commence the process that will lead to fresh elections into the governing council of CRFFN.
The group also acknowledged that the suit which was filed by some freight forwarders who were seeking legal interpretation about the tenure of members of the governing council of the CRFFN had stalled initial plans to conduct the elections.
Recall that, Shipping Position Daily had reported that a Federal High Court sitting in Abuja dismissed the suit seeking for tenure elongation for members of the governing council of the CRFFN.
In the Certified True Copy of the judgment, which was obtained by our correspondent, the Judge, Justice N.E Maha, dismissed the suit for lacking merits.
The Judge also declared that the interpretation of the Act of the CRFFN allows only for two years' tenure and not four years.
The suit was instituted by President of the National Association of Approved Freight Forwarders (NAGAFF), Chief Increase Uche, and the incorporated trustees of the Association of Nigerian Licensed Customs Agents (ANLCA) and one Bamidele Azeez, against the Registrar of the Council; Barr. Sam Nwakohu, the Minister of Transportation; Mr Rotimi Ameachi, and the Chairman of the Council, Col. Tsanni Abubakar (rtd). They sought the correct interpretation regarding the tenure of governing Council members.
But, CREFFPON in the statement alleged that, the embattled ex-members of the CRFFN governing council have been meeting to either appeal the judgement or negotiate their re-emergence as council members.
"Therefore, it is the candid opinion of the CREFFPON that, this intending moves by the larger components of the supposedly elected leaders of the freight forwarders is purely self-seeking and not for common good of the freight forwarding Profession and Practitioners", the statement added.
The group also urged that, the CRFFN should declare as a nullity the supposed electoral committee that had been constituted by the disbanded governing council.
The body also urged the CRFFN Registrar and management "to further enforce the administrative processes for the immediate recovery or returning back of the Council's vehicles in their possession back into the pool, which was one of the contemplated fears on the part of the said elected officers, that actually triggered the court action, abinitio".
Kindly like us on Facebook