South Korean shipping company HMM has reached shipbuilding agreements for the construction of twelve 13,000 containerships valued at $1.57 billion.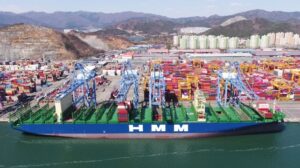 The order was split between South Korean shipyards Daewoo Shipbuilding & Marine Engineering and Hyundai Merchant Marine who will construct six vessels each. Deliveries are scheduled in the first half of 2024.
HMM said each vessel will be fitted with hybrid scrubbers and designed to be LNG-ready.
"Our newly ordered containerships will be fitted with the latest energy-efficient technologies," an HMM spokesperson said. "We expect these ships to give us strong environmental credentials, as well as to provide us with the capacity and flexibility to get our customers' cargo to the right place at the right time."
HMM in 2020 posted its first annual profit in five years despite a decrease in container volumes. The company reported net profit of $105 million on the year thanks to a record net profit of $137 million in the fourth quarter after 15 consecutive loss-making quarters.
In 2020, HMM took delivery of twelve 24,000 TEU newbuild ships operating between Asia and North Europe on The Alliance's east-west service network.
Kindly like us on Facebook