The Institute of Transport and Management Technology (ITMT) has conferred and decorated the founder of the National Association of Government Approved Freight Forwarders (NAGAFF); Dr. Boniface Aniebonam as Grand Fellow of the Institute.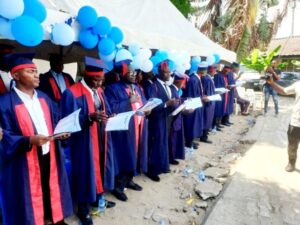 Dr. Aniebonam, who was decorated on Thursday is the third to be conferred and honoured as a Grand Fellow in the 36 years of the ITMT, after Lt. Gen. Jeremiah Useni and the Comptroller-General of Nigeria Customs Service (NCS), Col. Hameed Ali (Rtd).
While conferring him, the Rector of the Institute Dr. Mrs. Lilian Chibor described Dr. Aniebonam as friend who has been supportive of all the activities of the institute.
The Rector said the institute has been following the activities of the maritime icon which propelled them to single him out among other candidates.
According to her, "he has been at the fore front in championing good policies and calling for capacity building in the maritime sector.
"The institute singled out Dr. Aniebonam for this conferment as a result of his enormous contribution to the growth and development of the maritime industry in Nigeria. He's someone that stands out against all odds.
"You cannot talk about maritime and trade facilitation in Nigeria without mentioning Dr. Aniebonam."
She added that Dr. Aniebonam has been a fellow of the institute since 2003 and added that he is a source of inspiration and pride to the present and future generations of the institute.
The Rector equally used the opportunity to call for support and collaboration from individuals and corporate organizations.
Reacting to his fellowship, Dr. Aniebonam thanked the Rector for conferring on him such high level of recognition, adding that the conferment will further help him to continue to create capacity.
"It's part of what I know best. Judging from my background in NAGAFF, I have created a capacity to bring about a better life, from the NAGAFF Academy, I have been about developing capacity in terms of knowledge, so coming in is also an opportunity for NAGAFF members to take advantage of what the institute has to offer.
"When I was announced as the third person to be conferred on as a grand fellow of the institute, I asked myself if I really merited it, but it has happened and now it becomes a responsibility on my part."
He added that he is a private person and for a private person to be conferred with such recognition, it means he must have done some exceptional things compared to the previous grand fellows.
Aniebonam also directed all NAGAFF members to have closers tie with the ITMT in order to bank on the previous achievements recorded in the association.