The Lagos State Waterways Authority (LASWA) says that ferry operators' membership of any association or union is not a prerequisite to ply the Lagos inland waterways.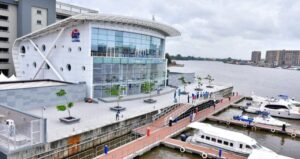 LASWA General Manager, Mr Oluwadamilola Emmanuel, made the clarification in a statement following recent misunderstanding among ferry operators in the Ikorodu axis of Lagos.
"All government registered or licensed boat operators are free to engage in water transportation at any state owned or approved jetties provided they meet all safety and operational requirements as set out by the Authority.
"LASWA frowns at disruption of operations at the state owned jetties by any person, association or union, especially in a scenario where unapproved levies were being imposed on legally registered boat operators.
"We thereby urge all boat operators to report any such incident of threat at jetties to LASWA as soon as it occurs; members of the public are also advised to report any infractions on the Lagos waterways to the agency," Emmanuel said.
The general manager added that LASWA was committed to making the Lagos inland waterways safe and viable for everyone.
Kindly like us on Facebook