As member- nations get ready for the 32nd International Maritime Organization (IMO) Assembly which is expected to hold in December, Nigeria's chances to clinch a seat in the category 'C' of the IMO Council looks slim as the country will battle 26 others, such as Singapore, Turkey, Belgium, Saudi Arabia, Kenya Morocco and 22 others.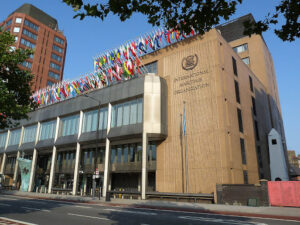 The Council is the executive organ of IMO and is responsible, under the Assembly for supervising the work of the organization
At the last election which held during the 31st Session of the IMO, Nigeria lost to Kenya by one vote in the Category 'C' elections. Kenya got 111 votes to come 20th; while Nigeria got 110 votes to make 21st. Saudi Arabia got 106, Poland 101, and Liberia 100.
This made West Africa to lose its only seat in the Council, as Egypt, Morocco, South Africa, and Kenya retained their seats in the 20-member Category 'C' Council of the IMO.
The last time the country got elected into the council was in 2009, during the administration of Dr. Ade Dosunmu after its initial election in 2000.
Checks by Shipping Position Daily from the IMO data base revealed that countries such as: Bangladesh, Belgium, Chile, Colombia, Cyprus, Denmark, Egypt, Indonesia, Jamaica, Kenya, Kingdom of Saudi Arabia (KSA), Malaysia, Malta, Mexico, Morocco, Pakistan, Peru, Philippines, Poland, Qatar, Singapore, South Africa, Thailand, Turkey, Vanuatu have all expressed their interest in the seat. This brings the total number of candidatures under the category 'C' to 27
At the last council election, the 20 countries elected into the category C were: Bahamas, Belgium, Chile, Cyprus, Denmark, Egypt, Indonesia, Jamaica, Kenya, Kuwait, Malaysia, Malta, Mexico, Morocco, Peru, the Philippines, Singapore, South Africa, Thailand and Turkey.
Nigeria is the only West African country contesting alongside South Africa (Southern Africa), Morocco, Egypt ( both Northern Africa) and Kenya (Eastern Africa).
Out of the five nations contesting from Africa, Nigeria is the only nation seeking election, others are seeking re-election.
The ambiguity of Nigeria's ambition and her position within the subcontinent of West Africa have made some stakeholders to express serious pessimism about Nigeria chances of clinching a seat in the IMO Council.
Some stakeholders have also raised alarmed that the recent pull-out by Nigeria from the Maritime Organization for West and Central Africa (MOWCA) over what the country described as unfair electioneering process, may affect her chances at the IMO elections.
Speaking exclusively with Shipping Position Daily, Captain Waredi Eniosuoh, a Master Mariner and former Director of Shipping Development, Nigerian Maritime Administration and Safety Agency (NIMASA), queried the objectives for Nigeria's quest for the IMO Category 'C' seat.
According to him, Nigeria should rather use its resources to fortify its maritime domain until its strength is capable of showing the world that she merits membership of the council.
"Nigeria seeking IMO Council membership is a good thing, but the question is: what is your objective? Are you in the race to improve shipping? If so, what have you done in terms of Maritime Safety and the Marine Environment within your domain that can measurably show to the world you merit a council membership on technical grounds.
"If your objectives are not clearly-defined merits, you may get it politically, but you will not be able to maintain the position technically. In which case, you may end up wasting valuable time and resources you could have used in technically fortifying your maritime domain, until such time when you could be called to come and take it on merit" Eniosuoh said.
On his part, the General Secretary of the Nigeria Merchant Navy Officers and Water Transport Senior Staff Association (NMNOWTSSA), Captain John Okpono told Shipping Position Daily that, Nigeria can only regain its position in the IMO Category "C" if it meets up with the necessary Criteria of having a good audit.
Okpono acknowledged that Nigeria has been showing some improvements in reduction of piracy on her waters and also developments in the infrastructure and facilities of its Maritime Academy. According to him, these are green lights for Nigeria to leverage on.
"The IMO seat is never a permanent seat, but when you have a good audit and meet up with the criteria you will retain your position. If we don't have a good audit, we will lose it to another nation.
"Since there is a reduction in sea piracy and improvement in the facilities at the Maritime Academy of Nigeria, Oron, it shows that Nigeria is improving and once it improves in facilities as per your personnel and mode of operation like the current electronic registration database, we should do better, so that we can become eligible for the IMO seat." Okpono said.
On the contrary, another mariner; Captain Deji Abegunde told one of our correspondents that there is no point going for the IMO seat if Certificates issued by Nigeria are not globally recognized. He urged the Nigerian Government to make adequate efforts in ensuring that they are empowered to issue globally recognized Certificates in order to make Nigerian seafarers globally-relevant.
In his words: "The IMO issue is just politics. Why is Nigeria involved in the IMO; if as big as she is, it cannot issue certificates that are recognized globally? I do not see any dividend of our presence in the IMO. Nigeria is supposed to be issuing globally-recognized certificates. There are lots of jobless seafarers in Nigeria, so why can't we make our certificates globally-accepted, so that Nigerians can go to school get certification, practice, and earn money for the country?" Abegunde asked.
Also, while discouraging Nigeria's quest for the IMO council seat, a former National President of the Nigerian Merchant Navy, Captain Thomas Kemewerigha said Nigeria's previous participation in the IMO Council has not brought any impact to the maritime system in Nigeria. He said Nigeria should only consider the seat if it is ready to effect a change in the maritime industry through its influence of the Council.
"What Impact will the IMO council seat create on Nigeria? Will occupying a seat in the IMO change our system? If occupying a seat in the IMO will make us sit right, then it is fine, but the system is not working and we are not getting it right. If there is any other agenda asides making the Nigerian system work well through the influence of the Council, then they should leave the seat alone" Kemewerigha noted.
Kindly like us on Facebook