Stakeholders in the nation's maritime industry have expressed a mix bag of shock anger and frustration following last Friday's loss by Nigeria at the International Maritime Organization (IMO) category 'C' Council election.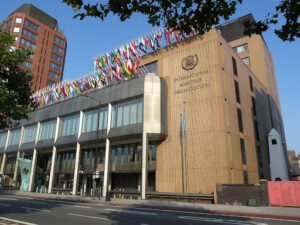 Nigeria lost on Friday for the fifth time despite depth move and lobbying to regain entrance into elite IMO Council. Nigeria lost alongside South Africa, Kuwait and Peru, Argentina, Poland, Bangladesh, Colombia, and Pakistan.
The new members of Category 'C' are: Bahamas, Belgium, Chile, Cyprus, Denmark, Egypt, Indonesia, Jamaica, Kenya, Malaysia, Malta, Mexico, Morocco, the Philippines, Qatar, Saudi Arabia, Singapore, Thailand, Turkey and Vanuatu.
Checks by Shipping Position Daily revealed that Nigeria had lost consecutively in 2009, 2011, and 2017 In 2019.
This development, had again denied Nigeria the pivotal opportunity of contributing to the process of taking key decisions in the global maritime space at the highest level.
In a chat with our correspondent, a former Director General, Nigeria Maritime Administration and Safety Agency (NIMASA), Dr. Ade Dosunmu expressed shock and disappointment that Nigeria lost the election again, despite its huge investment in Deep Blue Project, C4I center among other notable projects carried out by NIMASA to put the country in a favourable position to secure a seat in the council
When the news was broken to him by our correspondent on Friday, Dr Dosunmu said: "My God, that's serious, and we had very high expectations that we are going to make it, it's a shock to me, I thought we were going to make it this time around
"Well we can try some other time. It's our right to give the council the privilege, after all we were in the council before, so I don't think we should be too discouraged by the outcome of the election, we will continue to seek relevance in the international shipping community" he said.
Also reacting, the President of Ship Owners Association of Nigeria (SOAN); Dr. Mkgeorge Onyung expressed disappointment and frustration that Nigeria could not secure a seat again. He however said that Nigeria failed to prepare well for the election.
He said that NIMASA did not carry stakeholders along, which he said could have been the reason the country lost.
"Maritime is anything about seas and oceans. Shipping is 95% of global trade. Also shipping is 98% of maritime, non-shipping part of maritime is only 2%. Therefore, it is hard for you to succeed in maritime if you don't pay particular attention to shipping, ship owners and shipping operators and professionals.
"Nigeria did not prepare very well for it. Who did they prepare with? Are they going to prepare by themselves? It is like someone having a wedding and he is the only one doing the preparation. Your best man doesn't even know what you are doing, I really don't understand", he said.
On his part, another stakeholder; Capt Alfred Oniye, stated that Nigeria will naturally lose the IMO election, stating that those representing the country are not professionals and do not understand the language that could bring a win for the country.
"Nigeria will certainly lose. Those who went to represent us, are they professionals or operational? What do they know about maritime? That is the question. When you abandon a professional and you do not allow the professional to handle the job, why won't you lose? Are those who went to represent us competent enough? Do they even understand what is happening at sea? They are far from the happenings in the waters. So whatever language the IMO is speaking will be new and strange to them. They cannot understand. So why won't we lose?" he questioned.
Speaking also, the President National Association of Masters Mariners (NAMM) Capt Tajudeen Alao expressed disappointment over the failure to secure a seat at the council. He however opined that Nigeria losing out could be international conspiracy to ensure that the country does not get a seat, he questioned why the other countries hate Nigeria that much.
"I am not happy at all. What didn't we do? Could it be an international alliance against us? This is because everyone went there to vote one by one. I am not happy.
"We have deployed a lot of assets for piracy, we have done policy control. What are the other things? Maybe we need to go back to the drawing board and see what the gap is since we lost the election at the practical level. I am disappointed and I am not happy. The next few days, we should go back to the drawing table and prepare constructively and engage with others. Why did they hate us this much?" he questioned.
Kindly like us on Facebook