The factional secretary of the Board of Trustees (BoT) of the Association of Nigerian Licensed Customs Agents (ANLCA); Prince Taiye Oyeniyi has said that its faction is ready to abide with whatever may be the outcome of the recommendations of the committee that was set up by the Council of Registered Freight Forwarders of Nigeria (CRFFN) to look into the over four years crisis that has to turn the association apart.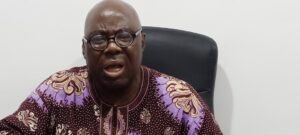 In a chat with Shipping Position Daily, the Taiwo Mustapha-led factional BoT scribe said its faction will abide by the decision, despite the fact that the other faction has more representatives at the CRFFN governing council.
Oyeniyi commended the chairman of, governing council of CRFFN; Alhaji Abubakar Tsanni, for the decision to look into the issue.
He told our correspondents in Lagos last week that: "I have to commend the chairman of the CRFFN for that initiative. But whether we like it or not, they are a government agency and they are saddled with the management and regulation of freight forwarding in Nigeria.
"Whatever their findings are is welcome and I'm very sure that they have even set up a committee to look into the problem. I am very happy that during their meeting with the Commissioner of Police some days ago, two of them were selected to be in the meeting. Unfortunately, our big brother and father, Alhaji Moshood Tijani had another appointment, but one of them was in the meeting and the CP asked him a simple question which was, "What are you doing to settle this problem?" and he said the committee has started sitting and an interim report has been agreed upon".
He confirmed that the committee had already submitted an interim report. "But there's a part of their recommendation which states that ANLCA will remain closed until the final settlement of this problem. Whatever thing they come up with, we will abide by it. But we believe that at the end of the day they will do justice. "This is because I have seen a few things from what they are doing now and the level they are"
On the lopsided representation of ANLCA in the governing council of CRFFN, and the likelihood of bias, he added that, "it is only a fraction of the ANLCA members that are members of the Council's Board because they selected themselves to go there".
He also added that the absence of other stakeholders in the CRFFN council is largely responsible for the challenges that it had faced in the past. "That's why there were crises in the council, until the advent of this new chairman who is trying to reach out to everybody, so that we can have one united house", he said.
Kindly like us on Facebook/twitter