The Deputy Governor of Ondo state, Mr. Lucky Aiyedatiwa has disclosed that the final approval from the Nigeria Port Authority (NPA) and the Federal Government, is the reason the deep sea port project in Ondo state is yet to take-off.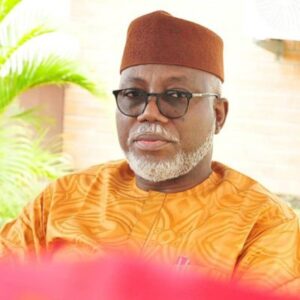 This is even as he informed that there are investors who are ready to invest and key in as soon as both the Federal Government and the NPA give final approval for the project to take-off.
Speaking on the sidelines of the Graduation Ceremony of the Deep Blue Project trainees at the Airforce base in Ikeja, Lagos last weekend, Aiyedatiwa told our correspondent exclusively that the deep seaport when completed, will be beneficial to the country as a whole, adding that the deep sea port will decongest the Lagos seaport.
According to him, "the deep seaport is very important to us in Ondo state, not just in Ondo state but for us as a country, because we have a natural draft, the deepest in Nigeria; with that, if finally, the federal government makes a declaration to pass it finally, that it should start, it's going to be beneficial to us as a country because it will decongest the congestion we are having in Lagos".
"And we can see what is happening in Apapa now, we need to decongest that and Ondo deep seaport is a solution to that, the business case has been made, so much work has gone into it, we are just waiting for the final approval by the Nigeria Port Authority and the Federal Government; investors are ready, we are just waiting for the final approval of NPA" he said.
The Governor of Ondo state, Oluwarotimi Akeredolu, had during a stakeholder's forum said the deep seaport would generate more than N500billion new investments, which will buoy the economies of the host communities.
Kindly like us on Facebook