"We have not got any mishap this year. Last year, there was one, but there were no casualties"
"The rickety boats must be safe, even if they are not what we want"
In this interview with Oluyinka Onigbinde and Adewale Buraimoh, the Lagos Area Manager, NIWA; Engr Sarat Braimah, speaks on her job as the head of the strategic Lagos Office of the agency. She also touches on sundry other issues about inland waterways transportation, especially in Lagos.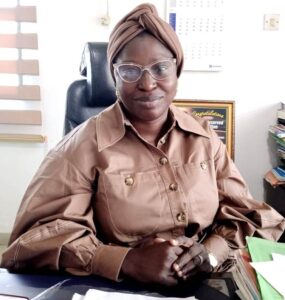 It's been a while since your appointment as Lagos Area Manager. What did you meet?
Before I became the Area Manager two years ago, I was the Head of Marine. So I was part of the regime that ended. I was heading the Marine Unit which is a very important unit in the Lagos Area Office. So it was a continuation of the administration. We tried to improve more on safety and the removal of water hyacinth. These are the critical areas that disturb navigation in Lagos state. We also improved on the usage of the waterways which has tremendously increased. The intervention of using barges to carry cargoes started just when I was appointed as the Area Manager and we can see that it has really helped in making the Tin Can/Apapa roads free for vehicles.
Lagos, being a cosmopolitan centre and an important area in NIWA operations, what are the challenges here?
The first challenge we met was night sailing; most of the boat users, especially those on the Island like using the boats at night. People staying in places like Sabokoji, Bishop Koji and Takwa Bay which are Island areas can only get to their area by water. Most of the people sell at Idumota market and they close late and tell us there is nothing they can do as they have to go back to their houses. It was a very serious challenge. We had to sit down and think on what to do because we don't want mishaps or boat plying in the night but they must go to their houses. They must have that freedom too. So it was a challenge for us. We deployed one of the National Inland Waterways Authority ferries to be the only ferry that will take them home at night. They were happy and sent appreciative messages. That was the first challenge we faced. We noticed that most of the boat mishaps happened at night due to visibility, overloading and the rest. We were able to surmount that. We still have the challenge of people sailing at night; which we are working on and discouraging. Our Marine Police and the Navy are always on water at night to help us curb that. We have some exceptions. There are some companies which wrote stating that because of the kind of job they do, they have to move at night like the Ladol Free Zone. So we have to check their boats and certify them okay for them to sail at night. Those are the exceptions.
We noticed those water hyacinths are still many on our waters. What is NIWA doing about that?
For now, we cannot say there are water hyacinths. Water hyacinths have seasons. This is not the season yet, but we are preparing for it. The National Inland Waterways Authority, through the Managing Director, Dr. George Moghalu has approved the clearing of water hyacinths in Lagos state. So we're prepared for it. We would clear Ikorodu, and Ijede, then we move to Ajah, Lamgbasa and Badore. There are three slots allocated for this year.
Despite all efforts by your office, we observe that there are still liters and derelicts on Lagos waters, what are you doing to address this?
If you are going towards Tin Can, you will notice a lot of liters, but we have placed signposts to discourage litering the waters. We found out that people staying close to the water are the ones causing the problem. We have cleared most of them at Oyingbo. We are trying to clear them and Tin Can too. When we were trying to do our jetty, we cleared some and cleaned the waters but we know we have not got there yet. We are still working on that and we'll continue to clear the waterways. We have got a company that wants to partner with NIWA to put a machine permanently in Tin Can to take litters away, and one will be at Lekki. They want to bring two incinerators into the country. We are hoping that it will be this year. So that will permanently solve that problem.
We've noticed that many boat users now use life jackets. How have you been able to achieve this?
We did patrols and we were seizing life jackets. If you go to NIWA workshop, you will see about two rooms full of seized life jackets. We have a task force in place at every jetty that seizes these life jackets and we gave them a sample of what the National Inland Waterways Authority approves. This is because a lot of life jackets are fake and cannot save a life. The weight of many of those jackets is not corresponding to the weight of the person wearing it. These are some of the safety talks the safety officers engage the boat users with; they check the weight before you wear it. If you are a child, there are life jackets meant for children too. We found out that most of these Liverpool and Sabokonji users used to have tailors in their village that sew life jackets. Our Police went there to seize the life jackets and confiscated all their machines. That is how we have been able to curb those substandard life jackets.
What is the life span of a life jacket?
We have five years and 10 years, depending on the manufacturer.
But we still see some little mishaps here and there.
You would agree with me that we have tried especially in the Lagos Area office about mishaps. The rate of incidents has drastically reduced. This is due to the efforts of the National Inland Waterways Authority, Marine Police and the Lagos State Waterways Authority (LASWA). The trio has been working together. We have taskforce that does routine patrol just for safety and this has been working.
What is the total number of mishaps so far this year?
We have not got any mishap this year. Last year, there was one, but there were no casualties. This is to the glory of God.
There has been silence over the disagreement between NIWA and LASWA since you came into office.
Now, we are working together. I don't even know you it will come back to this. Then, our rancour was on the issue of revenue. But now we have a perfect working relationship. The Managing Director of LASWA is a brother and a colleague and we are working together perfectly. Lagos state ferries use our jetty here. We have a park that we dedicated to only Lagos State ferries to berth and pick-up their passengers, because their boats are good and safe for our passengers. So we encouraged the state, and they bought more boats and they even just celebrated some months without mishaps. So we are working together and we don't have issues as regards working together to make Lagos waters safe and comfortable for everyone. We are all working for Lagosians.
The Nigerian Port Authority has been lamenting about barge operations and they are trying to regulate their operations. Don't you think this is an encroachment into the purview of NIWA?
NIWA and NPA are working together on barge operations, because the barges carry cargoes and cargoes are generated by the Nigerian Port Authority. So it is not an encroachment. All these barges go to the port and they ply the inland waterways. That is where NIWA comes in. There is a Task Force between NIWA and NPA on that. Even on the issue of regulation, there is a letter that came in from NPA last week for a joint meeting with NIWA, so that we can be on the same page. It is all for safety and doing the right thing. It is not an encroachment. We look at what NIWA Act says and nobody will go beyond that. NPA knows their Act and they are being guided by it; they will not go beyond what is theirs. The waterway where these barges ply is the property of NIWA, so NIWA regulates that. But where they carry the cargo is under NPA's purview. So we must collaborate together on the regulation of barge operations.
But NIWA also regulates and certifies them.
Yes, we do because they ply the inland waterways; they have operational permits and license. But NPA will now check whether they are free to come to their Jetties. That is why the collaboration is important. NPA checks what NIWA gives before they issue their own permit.
On the issue of boat operators' training, there are allegations that boat operators complained that the training fees are not affordable.
We have a partner that is doing the training for NIWA and there's a school with practical sessions. Several times we have had these arguments and I have told them it is like going to school to acquire knowledge that is necessary for you to survive. So you must pay for it and education is not expensive anywhere in the world. How much is it? What they are paying is not up to N50,000 and they would do practical and classroom lectures. So I don't understand how expensive it is.
How will you describe the relationship between NIWA in Lagos and ATBOWATON?
ATBOWATON has been cooperating with NIWA. Most of our problems with them are to ensure safety. Most of the boats are under ATBOWATON. But sincerely speaking, the association has been cooperating. Whenever we see anything we don't like, we call their National Chairman, Gani Tarzan and the State Chairman, Mr Lawal. We even gave them an office within our complex all because we want to monitor them and see what they do. We want to ensure they are doing what the National Inland Waterways says. They (ATBOWATON) are the ones working with us. Our Task Force comprises its members, the Maritime Workers Union of Nigeria, our staff, the Marine Police and the Marine Command of NIWA. These are what we joined together to form our task force to ensure safety. This is because they are the owners of the boats and when they are sanctioned they cannot be fighting for the wrongdoings of their members.
What are you doing about the rickety boats that still ply our waterways?
Anytime I sit in my office and I see these boats, I feel sad as a person, because I love water and love seeing good things on the water. We are trying. But we cannot phase something out when you don't have a replacement. The number of people using our waterways is so many now. The numbers are there. There was a time we said we don't want those kinds of boats to ply the waterways. We went to the jetties to stop them. We started receiving calls and begging because people were stranded. That's why we are encouraging the private sector to partner by bringing boats. That is why we encouraged 'Sea Coach' by giving them a space in NIWA here. We also have 'Texas Connections', 'Gani Tarzan' and 'Metro Ferries'. So if we have enough. then we can effectively stop the rickety boats completely. But for now, we are regulating them and ensuring that it is not beyond safety. They must be safe even if they are not what we want.
Lastly, you are a leading voice for women in the Maritime industry, what is your advice to women?
Well, women are trying in the maritime sector. We have WISTA, WIMA and others. I am a member of WISTA and I know women want to be heard and want to be everywhere and known. There is a lot of advocacy for ladies and young girls to join the maritime sector. There is a programme called "Catch-Them-Young" by Mrs Willams. I am always a pioneer actor there encouraging ladies to see why it is good to do Marine-related courses, so that they can be in the Maritime sector. I love the job and I love what I do, so I encourage them.
Kindly like us on Facebook