The founder of the National Association of Government Approved Freight Forwarders (NAGAFF) Dr. Boniface Aniebonam, has opened up on the behind the scene roles he played in the crises in the Association of Nigeria Licensed Customs Agents (ANLCA).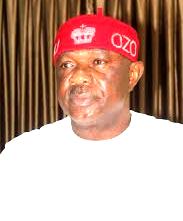 Aniebonam, while speaking at the inauguration of the new National President of NAGAFF in Lagos last week, had hinted that he gave the President of ANLCA, Tony Nwabunike the advice that brought about 'peace' in the association.
Tony Nwabunike had led some executives of ANLCA, including Vice President, Kayode Farinto, National Secretary, Alhaji Babatunde Mukaila as well as Hajia Bola Muse to the NAGAFF event.
Aniebonam, while charging the new president of NAGAFF had said: "A leader must be able to take decision, it could be a wrong decision, but if you don't make decision at all, then you are not a leader".
Hinting at his involvement in the decision that led to the expulsion of some members of ANLCA by the Tony Nwabunike-led executive committee, Aniebonam told the gathering: "This is why my big brother, Iju Ozobulu (Tony), when he was being disturbed in ANLCA, I told him, Tony you have to take decision, you cannot satisfy everybody and since Tony Iju took decision in ANLCA, do you still hear noise? Some people were expelled".
"Do you know that the problem between ANLCA and NAGAFF has always been the sharing formula? There is no much difference, only that ANLCA says that they are bigger. It took me 20 years to be able to bring my brother to my side and I said, let's stop fighting, whatever you can offer, I can also offer it", he said.
Shipping Position Daily recalls that following unresolved crisis in the association, the National Executives Committee (NECOM) of the association, in April 2021 suspended some members of the Board of Trustees. These include: Alhaji Taiwo Mustapha, Prince Taiye Oyeniyi, Chief Dennis Okafor as well as the National Publicity Secretary Adumaza Joe Sanni, who is a member of the elected National Executive Committee (NECOM) of the association.
They were accused of gross misconduct and deliberate assassination of the character of the President and other members of the National Executive Committee.
Kindly like us on Facebook