Australian authorities have detained a Panama-flagged bulk carrier over several crew labor violations including non-payment of wages.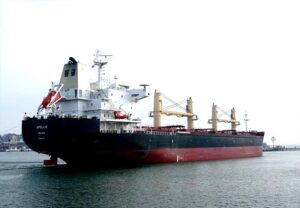 The Australian Maritime Safety Authority says it was tipped off to possible breaches of the Maritime Labor Convention, 2006 (MLC, 2006) onboard the MV Apellis following a complaint from the International Transport Workers Federation that raised concerns about the welfare of the crew.
The MLC, 2006 is an international convention developed under the International Labour Organization. It sets out modern standards relating to the working and living conditions of seafarers at sea.
The MV Apellis is operated by Pyrsos Shipping Co Ltd and chartered by Hudson Shipping Lines.
The vessel was boarded by AMSA inspectors at a grain jetty in Esperance, Western Australia, leading to the discovery of several deficiencies related to the working conditions of the crew. AMSA says the violations included seafarers not being repatriated as required by their employment agreements; seafarers not being provided a monthly account of wages for the month of August; one crew member found to working beyond medical restrictions; no working washing machine in crew laundry; inadequate quality or nutritional value of food; and seafarers not paid monthly as required by their employment agreements.
The AMSA added that the vessel was been detained over non-payment of wages and will remain under detention until this specific deficiency is rectified.
The AMSA notes that All Australian registered and foreign flagged vessels within Australian waters must comply with the standards set out in the MLC.
AMSA's General Manager of Ship Safety, Allan Schwartz, said that the proper treatment of seafarers is just as important as the proper maintenance of ships' equipment – a failure in either system can lead to serious accidents.
"All ships in Australian waters need to comply with Australian standards," Mr Schwartz said. "Seafarers live difficult lives often spending many months at sea away from their families and friends.
Any vessel which is found to be in breach of the MLC or other Australian standards will be detained by AMSA and repeat offenders risk being banned from Australian waters."
Australia became the 22nd member State of the International Labor Organization to ratify the landmark Convention in December 2011. MLC, 2006 is often referred to as the "Seafarer Bill of Rights" and the "fourth pillar" of maritime regulation (with SOLAS, STCW and MARPOL), establishing seafarers' rights to decent working and living conditions while creating fair competition for shipowners.
Kindly like us on Facebook/twitter