The Nigeria Customs Service on Tuesday vowed to do all that was necessary to collect revenue for the country, stressing that the nation was depending on the service for revenue.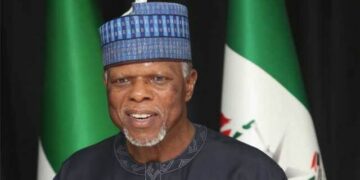 The Comptroller-General of Customs, Hameed Ali disclosed this in Abuja during the decoration of the three newly-appointed assistant comptrollers-general, and other officers of the service.
Ali charged the newly promoted officers and other personnel of the NCS to take their jobs seriously, stating that the government and Nigerians would now be expecting more from the officers.
He said, "promotion comes with a lot of responsibilities. Every step you go in your service you become more visible. The expectations from are going to be more and you will be given assignments that will get you to be visible.
"Let me congratulate all of you and say this is a step forward. Today at the Nigeria Customs Service we have been able to streamline our processes with regards to promotion. We have a standing operational procedure.
"I want to assure every customs man and woman that if you work hard and maintain good conduct, and you pass your exams, I bet you, promotions are at your beck and call. So let me use his medium to once again impress on all of us to take our jobs seriously."
Speaking on the need to generate revenue for Nigeria, Ali said the NCS would do all it could to achieve this.
He said, "I don't know how to say this, but I have to say it that the nation depends on us to generate revenue. We must do all that we need to do to get that money.
"We must also work hard and ensure that we facilitate trade because that is what will bring in the revenue. Wherever you find yourself as an officer, you must conduct yourself as an officer, in or outside the uniform."
He said the responsibility of the NCS was to ensure that "we do not disgrace the service, and by that commitment, it means that in whatever you do, on-duty and off-duty, you must behave as a responsible officer."
Ali added, "Our attitude is gradually changing, we are taking this service seriously. We are now realising why we are in this uniform. I've always said that once you make up your mind to wear this uniform, please give it the respect that it deserves.
"It is a great opportunity that out of the over 200 million people, 15,000 of us are today representing Nigeria in this service. It is a great thing of pride and I expect us to work with our heads high."
Some of the newly promoted officers who spoke at the event promised the comptroller-general that they would live up to expectations and uphold the tenets of the NCS..
shippingposition
Kindly like us on Facebook/twitter