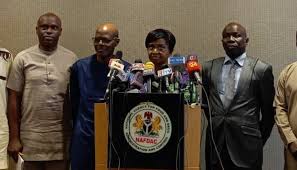 The Director-General of the National Agency for Food and Drug Administration and Control (NAFDAC), Prof. Mojisola Adeyeye, has revealed that a total of 68 Nigerian export products have been rejected by European countries due to concerns over their quality and documentation.
Prof. Adeyeye made this revelation during a press briefing where she highlighted NAFDAC's proactive efforts to address these challenges and ensure that Nigerian exports meet international standards.
She stated that the disheartening development came to light after a meeting with the UK Food Standard Agency (FSA) during a workshop on Nigeria-UK Enhanced Trade & Investment Partnership (ETIP) held in London. The meeting, conducted under the UK-Developing Country Trading Scheme (UK-DCTS), brought to the forefront the continuous rejection of Nigerian food products by the United Kingdom.
According to her, NAFDAC, led by the Nigerian delegation from the Federal Ministry of Industry, Trade, and Investment, raised concerns about the lack of notifications regarding the rejected products, the absence of NAFDAC's involvement in these matters, and the necessity for mutual recognition of electronic certification by both government agencies responsible for export certification.
In her efforts to change the narrative surrounding Nigerian food products in the global market, Adeyeye said NAFDAC established the Office of Trade & International Relations within NAFDAC about two years ago. Additionally, NAFDAC has engaged in various activities, including round-table conferences with Chief Executives of trade facilitation-related MDAs, advocacy visits to representatives of trading partners in Nigeria, and participation in trade delegations to key partners.
One of the primary challenges identified in the export process of NAFDAC-regulated products is non-compliance with NAFDAC's advisory guidelines, leading to the absence of statutory testing by the agency for most exported food products. This lack of quality control and safety testing by NAFDAC contributes to the rejection of these items. Other issues include the failure to utilize free laboratory testing offered by NAFDAC for export samples, the involvement of unscrupulous agents, exporters' unwillingness to meet sanitary and phytosanitary requirements, poor packaging, and disregard for the importation requirements of trading partner countries.
To address these challenges, Adeyeye said NAFDAC is implementing six regulatory measures, including the immediate inclusion of Good Manufacturing Practices (GMP), Good Hygienic Practices (GHP), and laboratory testing certification for regulated products, as well as closer collaboration with various stakeholders and regulatory authorities. These steps aim to enhance the safety and quality of Nigerian exports and regain trust in international markets.
In conclusion, Adeyeye urged Nigerian exporters dealing with NAFDAC-regulated products to obtain the necessary certifications to ensure the successful processing of their goods. This announcement underscores the urgent need for Nigeria to take comprehensive measures to uphold the quality and documentation of its export products, thereby preserving its reputation in the global marketplace.