The Minister of State for Petroleum Resources, Mr Timipre Sylva says the Federal Government is committed to eradicating smuggling of Premium Motor Spirit (PMS).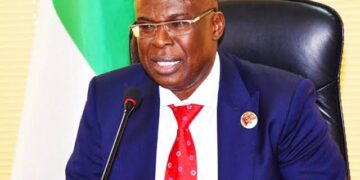 This according to him is to ensure energy sufficiency in Nigeria.
Sylva, who said this at the 16th Edition of the President Muhammadu Buhari Score Card Series in Abuja, said stringent measures had been put in place to tackle the menace.
The minister said  measures such as improved technology, PMS equalisation to close differential cost and  routine end-to-end tracking of petroleum  products cargos using  Lloyds List Intelligence and  Refinitiv had been deployed.
On other progress made to ensure energy sufficiency, he said, "255,659 truck out have been equalised, 11,622,926,494 litres equalised, approximately N173, 200, 284, 779 equalisation paid and 1, 277 supplying vessels tracked.
"Also, 25,525,688,042 litres of PMS has been discharged with 66.7 million litres average daily sufficiency and 24,346,614,589 litres total truck out volume."
Syiva said part of the nine mandates, which the ministry had made tremendous progress on included completion of gas flare commercialisation programme,  increment in crude oil production to three million barrels per day.
Other mandates according to him are, reduction in the cost of crude oil extraction by at least five per cent, agressive promotion of passage of the Petroleum Industry Bill and  Deep Offshore and Inland Basin Production Sharing Contract Amendment.
He further said others were, "working with private sector operators to increase domestic refining capacity, collaboration with private sector to create many well-paying jobs and implementation of a strategy toward taking 100 million Nigerians out of poverty.
"Top priorities to take 100 million out of poverty in 10 years are youth training, skills development and  empowerment, corporate social  responsibility, industry driven  training and  talent acquisition, bid rounds and cost reduction."
On some burning issues in the industry such as petroleum product supply, establishment of modular refineries and rehabilitation of existing refineries, Sylva said tremendous progress had been made.
On subsidy regime, the minister said subsidy was not sustainable.
He said removal of subsidy would go a long way in freeing funds for other developmental projects that would lead to the growth of the country.
The minister said the ministry was committed to delivering  a  thriving oil and gas industry, while ensure an enabling environment to improve the oil and gas value chain driven by modern technology among others.
shippingposition
Kindly like us on Facebook/twitter